100% RAW LOVE – ENGLISCHE VERSION
"the ultimate favorite recipe collection by raw foodies from all over the planet"
Have you ever wondered what the world's leading raw foodies favorite recipes are? Wonder no longer – they are all in this book!
100% RAW LOVE contains exclusively tried, tested and served recipes – a satisfaction guarantee!
You will also find a bit of information and contact details of each recipe creator on their recipe's page.
100 colour pages PDF format (DIGITAL – ideal for computers, laptops, tablets or to print out)
 


€ 19,97.-
The story behind this book:
100% RAW LOVE was originally created to support Melanie Maria, a raw chef from Berlin, Germany on her over 2 year long healing journey of cancer.
After the first operation and treatment only helped temporarily, she chose an alternative therapy in early 2013 and continued to consume liters of green juices and smoothies with wild herbs on a daily basis.
Our intention was to support her covering the costs of her therapy but unfortunately, Melanie passed away in February 2014. 100% RAW LOVE will continue to be available in her memory though, so people will be informed earlier and have more knowledge in how to heal and thrive.
Our new aim for this book are therefore 2 things:
1. to support others who choose to use alternative treatments as (part of) their healing regime
2. to continue Melanie Maria's quest – to educate and support as many people as possible in achieving a healthier lifestyle by donating to KIVA .
KIVA is a non-profit organization that allows you to lend micro credits to people in less privileged environments. The first loans were given to women in Kenya, Uganda, Iraq, El Salvador, Vietnam and Kosovo, and many more will follow.



€ 19,97.-
Who is contributing?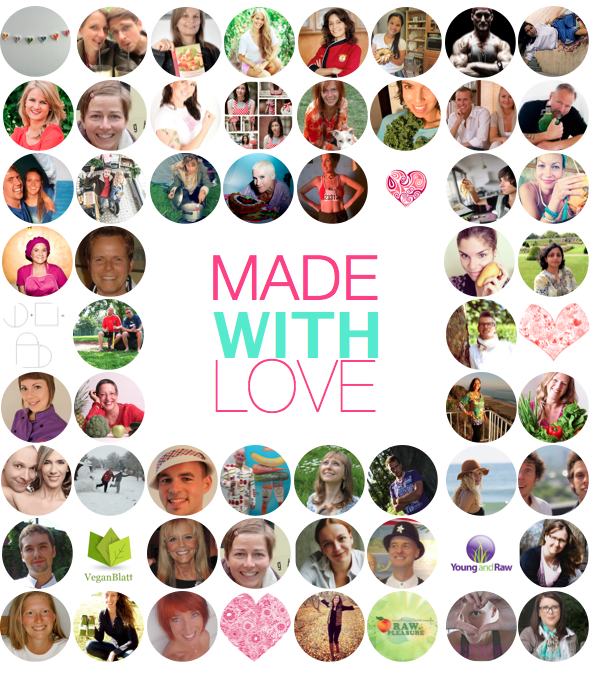 Of course this book would not have been possible without the support of a whole bunch of amazing people, so here is a big shout-out to everyone who participated in this project ♡ Aphrohdisia – Audrey's Antidotes – Aya Papaya – b.alive! – B.Tru Yoga – Better Raw – Claudi Goes (raw) Vegan – Crazy Raw Vegan – Crudessence – Dancing with the Raw Food Muse – Das Gesundheitsfundament (Better Life Coach) – Day Today Living Foods – Food Matters – Froothie – Froh mit Rohkost – Girl Gone Raw – Grass Lova – Health Yeah! – Jonny Freesh – Julie's Lifestyle – Karl Ess – Kate Magic – Kiss From Inside – lalaraw – LiveLoveFruit – Living Light Institute – Mild & Mellow – Nadine Hagen – Naked Treaties – Natalia KW – NLX – One Fruit At A Time – Perfekte Gesundheit – Quick'n'Healthy – Raw Food Diet For Life – Raw For Good – Raw Freestyle – Raw Pleasure – Raw Recipe a Day – RawFunFamily – Rawpower – Rene Goes Raw – Roarfood – Rohe Energie – Rohe Lust – Rohkost 1×1 – Rohköstlich – Rohtopia – Sunny Griffin – The Green Gorilla Surfs In Peace – The Life Food Coach – The Raw Food Trucker  – Topform leicht gemacht – VeganBlatt – Vitalissimo – Wild und Roh – Young And Raw 
What are the recipes?
SMOOTHIES & JUICES Beet It Smoothie – Blueberry Breakfast – Deep Love – Freiburg Kappel Forest Smoothie – Green Sunshine – Healing Cleanse Green Smoothie – Kaki Dream – Nectar Of The Gods – Orange Avo Smoothie – Orange Cream –  Pineapple Parsley – Pom Cacao Goji Smoothie – Post Workout Smoothie – Sparkling Ginger Lemon Aid 
SALADS & SOUPS Brussel Sprouts Salad – Green Papaya Salad – Hearty Veggie Stew – Hippocrates Style Green Healing Soup – Lentil Chard Salad – Lime Chili Salad with Sesame Rice – New Year's Vitamin Bomb – Potassium Balance Broth – Savory Salad Dressing – Tabouleh Salad 
SNACKS Apples & Cream Breakfast Bowl – Cash Herb Spread & Simple Crackers – Chia Seed Pudding Pots – Fruit n Nuts Muesli & Almond Milk  – Olive & Tomato Rocking Pesto – Orange Chocolate Kale Chips – Sweet Red Pepper & Zucchini Hummus
MAINS Angry Stomach Filler Pie – Beet Pasta with Avocado – Cheezy Cannelloni with Marinara Sauce – Green Falafels – Indian Coconut Curry – Kale & Kelp Noodles – Pad Thai But Different – Spaghetti Bolognese – Soft Tacos with mince, pico de gallo & sour cream – Spring rolls & Thai Nut Sauce – Tacos a la 801010 – Veggie Maki Rolls
DESSERTS Apple Pie – Aromatic Hemp Cake – Blackberry Swirl Cheesecake – Chocolate Mousse & Vanilla Macaroon Crumble – Chocolate of the Gods Cake – Chocka-Plum Ice Cream – Classic Cheesecake & Whipped Cream – Decadent Brownies – Ferrero Rocher Cake  – Mandala Cake – Mango Pudding – Mini Vanilla Cakes – Mousse Au Chocolat – Nutella-Banana Crepes – Plum Cake – Real Food Snickers – Strawberry Cheesecake – The Bounty Bar Of Your Life – Vanilla Crescent Cookies – Warm Chocolate Milk 
BEYOND Vision Board – Giveaway: LOVE – Giveaway: PATIENCE 
PLUS: Freebies for YOU!
Your transaction will be processed via Digistore24.com