SMOOTH & JUICY – recipes to look great and feel amazing!
"over 130 smoothies, juices and cocktails"
This book is my personal collection of the best recipes to create delicious smoothies, green smoothies, super shakes, power juices, elixirs and genius cocktails that are magic for your body.
Feast as you fancy, with recipes that make your smoothie challenge .. smooth sailing, carry you through your juice fast, ease your detoxing after wild times and support you with an extra boost of nutrients when you are unwell – while supercharging your system.
84 pages
DIGITAL – PDF Format:  ideal for computers, laptops, tablets or to print out
€ 14.90.-
What's in  SMOOTH & JUICY?
Smooth & Juicy contains over 130 recipes which are divided in several chapters and subchapters:
Smoothies – green smoothies, fruit smoothies, super shakes, dessert smoothies
Juices – fruit juices, veggie juices, mixed juices, tonics und teas
Cocktails
In addition, you will find smart infos about the ingredients – the immunity boosters, system cleansers, skin improvers, Vitamin C bombs, and more.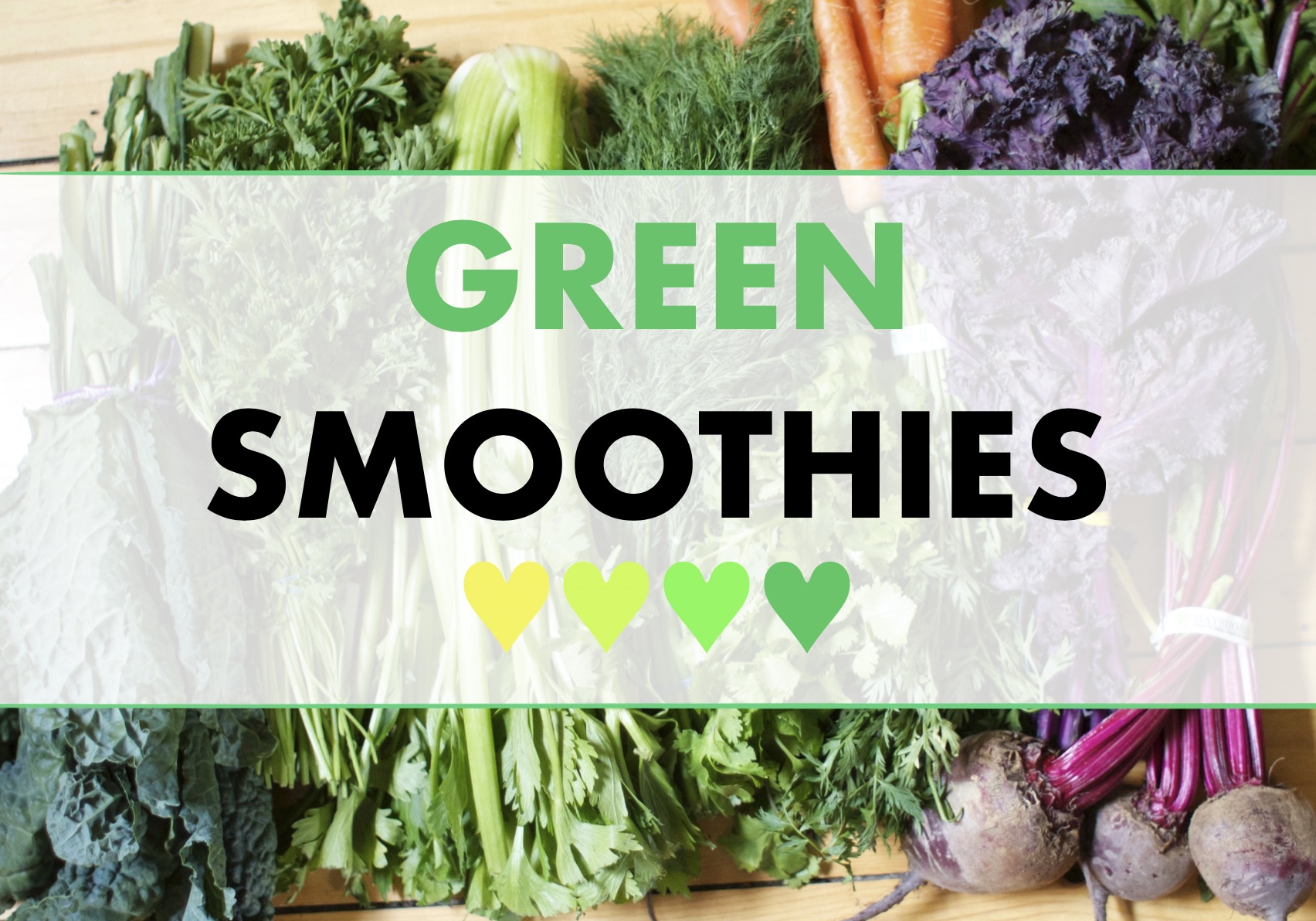 Smooth

&

Juicy

is your perfect companion if ..
.. you want new smoothie recipes
.. you want new juicing inspiration
.. you want

to

invest in yourself
.. you wish to improve your health
.. you seek 

alternatives to dairy milkshakes


.. you want to
give your body a bit of a cleanse


.. you wish to boost your immune system
.. you want to lose weight
.. you want healthy chocolate indulgence alternatives
.. you wish to increase your energy
.. you want cocktails that actually have some benefits
.. you simply want to

feel

good and look great

Smooth

&

Juicy

fulfils all these wants and wishes.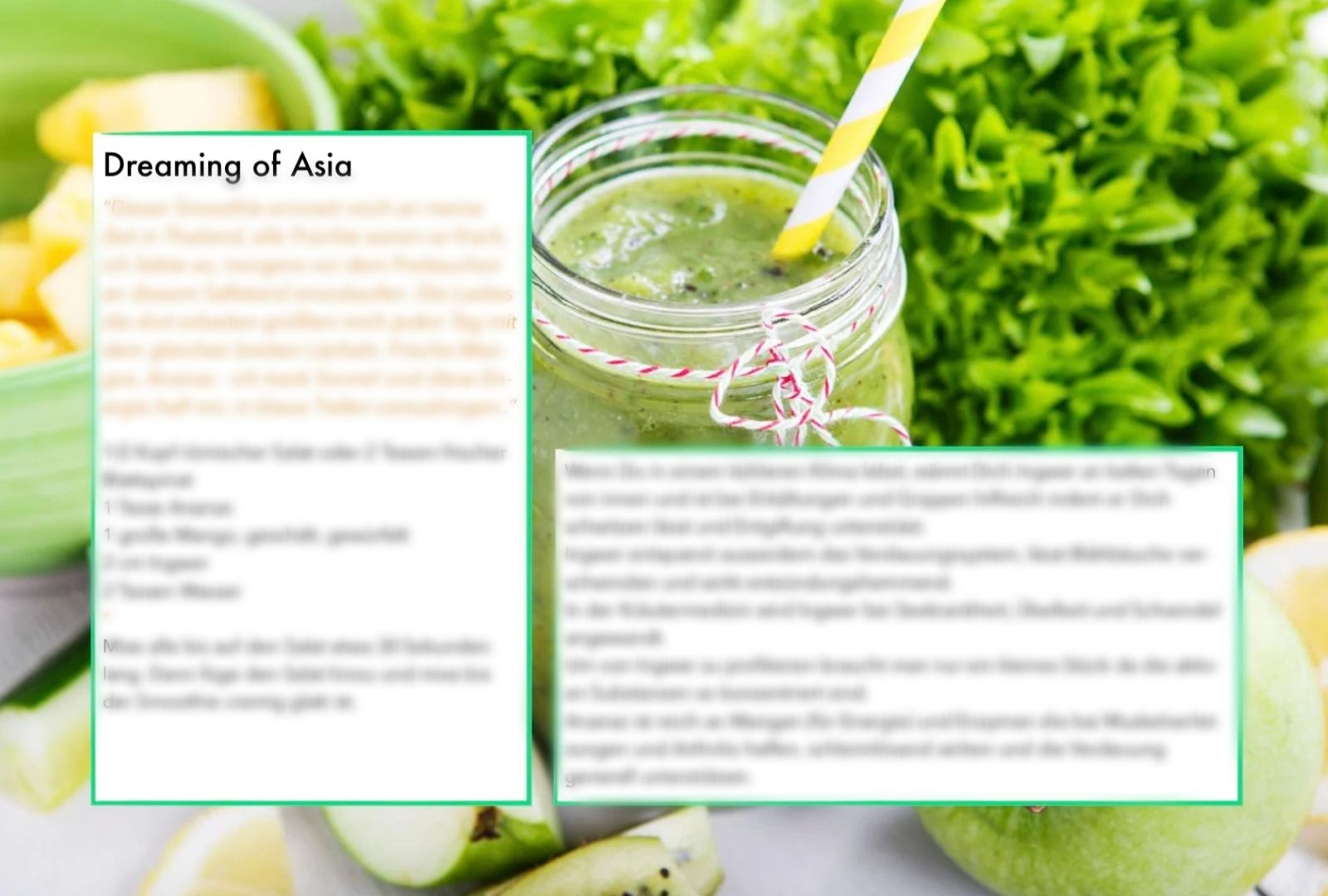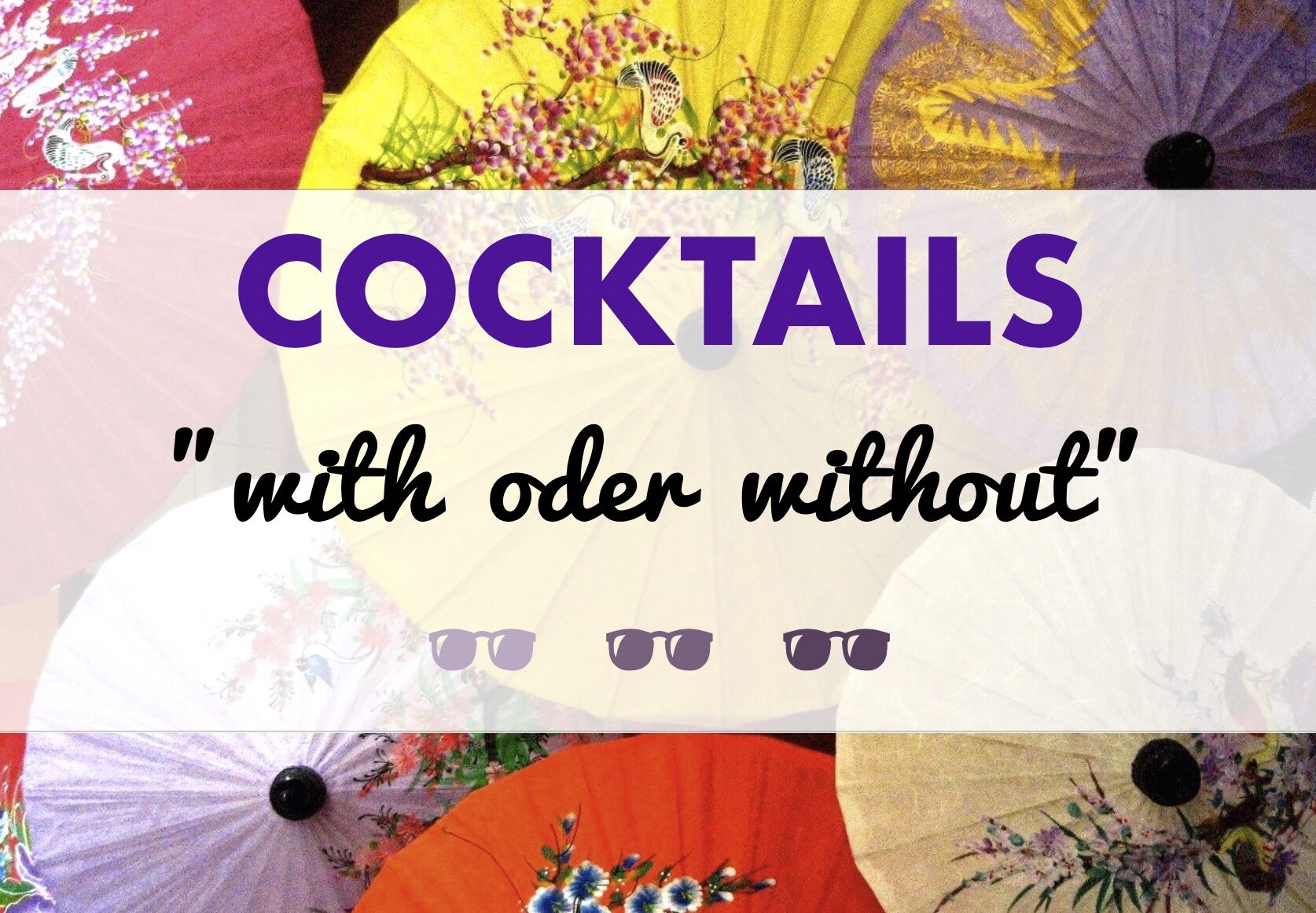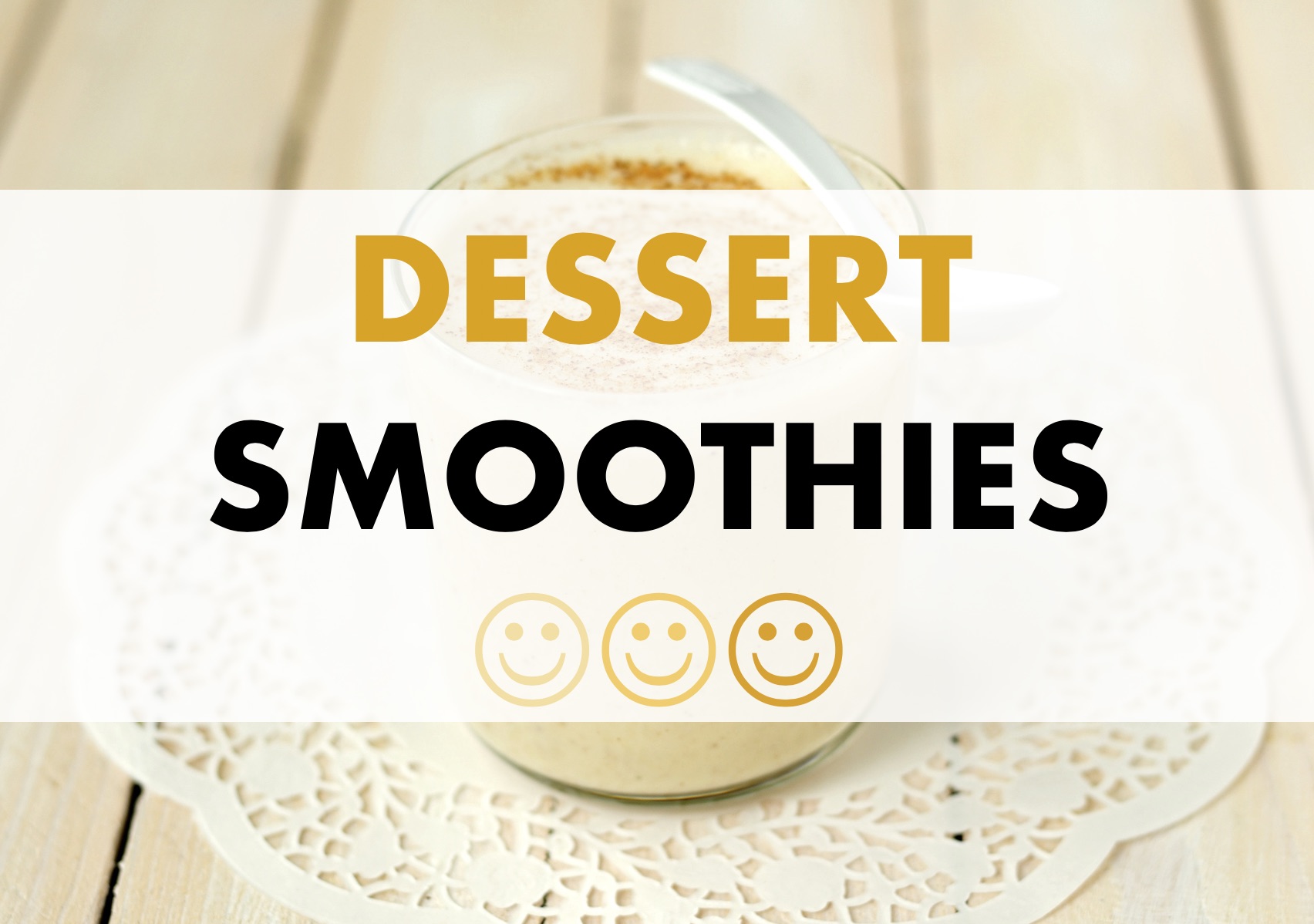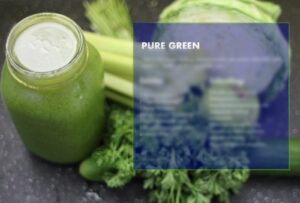 "
 This book is an awesome source for a couple of reasons! I am often doing cleanses for health, and I get so sick of the same juices and smoothies! This was a whole new bunch of combos that I hadn't thought of or tried. Even my husband wanted some, and he usually won't touch my creations with a pole! These were great.
My favorite was "Dreaming of Asia," and when I did the "Belly Buster" for a few days, I felt great, and my jeans were a little looser.
I've been making the "raw nrg" for my teenage son, and it gets rave reviews, also. This is a great resource, and you can bet as it warms up out, and the Summer BBQ season begins, I will be busting it out to the Cocktail (Virgin or not) section!" Michael Dove
*
"Lisa has issued a comprehensive and thorough recipe book, chock full of nothing but great smoothie, juice and cocktail recipes. She's not only made it easy to navigate the collection to find anything for which you are specifically searching, but also made it pleasant and pretty to look at with clean illustrations and invigorating colors, which are musts in any recipe collection aiming to be a professional and complete looking one.
Lisa has taken the liberty of organizing her various drink recipes in a manner which is intuitive and easy to understand: smoothies and juices and their respective subcategories.
She has also given the reader the "basics" as it were, so if you are just embarking on your first venture into juices or blended drinks of any kind, you will find what you need here, while other recipe authors might leave these valuable pieces of information out of their own collections.
The author also shares with us, the reader, a glimpse into her own personal experiences with cleansing diets and the very recipes she includes in this collection.
So often authors will borrow and modify recipes without trying them or for the sole reason of making a profit. Lisa tells us about her firsthand positive experiences which led her to the creation of this recipe book.
This book is a solid value for the money.
The publication is simple to use and cook friendly no matter what your skill level might be." kate.l
*
"Smooth & Juicy: 130 Smoothies, Juices, & Cocktails for you (Isn't that a title?) helped me in my quest for something a little different in the morning. My mornings are becoming more hectic than usual, so I often need a quick smoothie recipe handy, just in case.
Smooth & Juicy provides an incredibly large collection of smoothie, cocktails, teas, and other kinds of naturally-based juices for just about every type of smoothie you can think of. The number and varieties of smoothies is definitely one of the best aspects of the book. There is something in this book for every occasion and for every diet from the Quick Fuel recipe (which can be used before morning workouts) to a Mojito.
The Quick Fuel recipe was probably my favorite one, although I replaced the vegan protein with whey. The book also has a different design, which makes it a little more visually interesting. Instead of getting bland black and white Kindle pages, the author found a way to make colorfully design pages which I haven't seen before in a cook book.
It's a definitely a bright and colorful book that is geared toward the predominantly female audience who will enjoy the book. If you ask why I got it, I was just looking for new smoothie recipes.
In either case, I will probably use this book as reference book whenever I ran out of smoothie recipes. As I said above, they are simple to make and easy to prepare. They are all-natural (which is what I am going for) , cheap and easy to make. What more can you ask from a smoothie book?" Charles Franklin
*
"I am very excited to get this book. This will be a great resource.
I have always enjoyed smoothies, but have been thinking about getting into juices. This is the perfect way to start.
I love the layout of this book. It is easy to read, attractive to the eye in it's layout of the recipes.
Simple instructions….just the right amount if detail.
Some great tips at the beginning of the book also." Jules