Summer! Holidays! Sun! Warm evenings! Greek Salad! With Feta Cheese!
And even better, with raw vegan feta 🙂
Use herbs as you please, I love rosemary, oregano and thyme for a mediterranean feel!
PS. the photo was taken on the beautiful Greek island of Karpathos, in 1997!
RECIPE FOR RAW VEGAN FETA CHEESE
Ingredients:
1 C almonds, soaked overnight, then rinsed and peeled
3 TBSP cold pressed olive oil
juice of 1/2-1 lemon – you should get around 1/4 cup or 60ml
1 clove garlic, peeled and minced
1 tsp sea salt
1/2 C water
2 tsp mixed fresh herbs or 1 tsp dried herbs – rosemary, oregano, thyme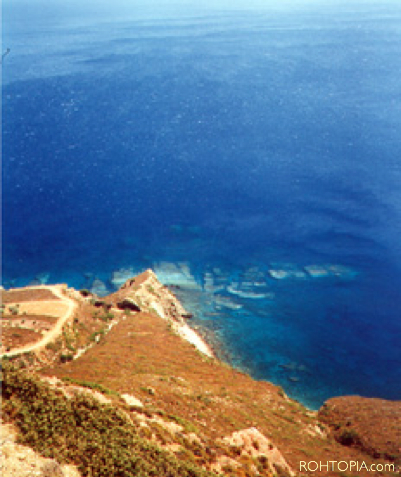 Preparation:
Combine all ingredients in a food processor or blender until the mixture has reached a creamy consistency.
Manually stir in the chopped up herbs.
Shape cheese into a ball, place it in a nut milk bag or cheese cloth and squeeze out excess liquid.
Leave the cheese in the cloth, put it in a strainer with a bowl underneath and let it set in the fridge over night.
The next day, remove the cheese from the cloth.
Flatten it a bit into a cheese wheel shape.
Dehydrate it for one hour.
Store the raw vegan feta cheese refrigerated for up to 5 days.