Oh. My. God. Raw vegan white chocolate, so chewy your teeth will sink right through it – this is it!! You can use only macadamia nuts, or cashew nuts if you prefer one over the other, and choose a sweetener of your liking – the ones light in color work best to keep the chocolate nice and white.
RECIPE: WHITE CHOCOLATE DREAMS
Ingredients for 1 large bar or 30 pieces of white chocolate:
1 cup cacao butter, melted over hot water
1/2 cup light nut butter *
1/4 cup + 2 TBSP liquid sweetener **
1/2 vanilla bean, seeds only
1 pinch of sea salt
optional: slivered almonds, dried berries, essential oils
* Nut butter: macadamia or cashew butter are best – they can be store bought or home made: blend raw nuts and a pinch of sea salt to a paste, add a tiny bit of coconut oil if necessary. This will take several minutes. Sweeten to taste.
** Liquid sweetener – maple, agave syrup, coconut nectar or rice syrup work best
How to make raw vegan white chocolate:
Melt cacao butter over warm water until liquid.
If making your own nut butter, blend nuts to a smooth paste – scrape down the walls of the container with a spatula to create an even nut butter without any chunky pieces (unless you want that, it it just as delicious).
Add remaining ingredients and blend until smooth.
Pour into silicone moulds or into a Tupperware container or a small baking tray lined with parchment paper.
Sprinkle with extras of your choice.
Place the tray in your freezer for 1 hour to set.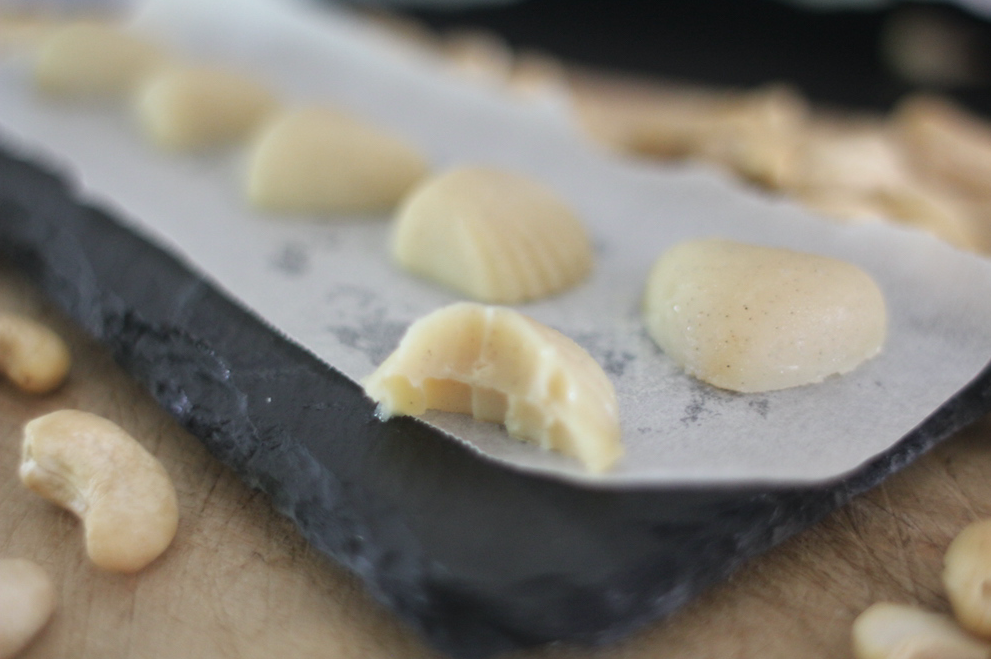 [/vc_column_inner][/vc_row_inner]
Notes:
C = cup, 240 ml
1/2 C = half a cup, 120 ml or / TBSP
1/4 C = quarter of a cup, 60 ml or 4 TBSP
TBSP = table spoon, 15 ml or 3 tsp
tsp = tea spoon, 5 ml
"soft dates" = medjool are usually best. If necessary, soak briefly and drain. The soaking water is super sweet by the way!