So, it's been a while since the temperatures started dropping and while it may have been fun at first, the cold now starts to creep into all our cells, making us feel chilly in a way we would be dreaming of during hot summer days.
With February upon us, traditionally being the coldest of all months, here is how you will stay warm and cozy even in the midst of the deepest, darkest winter days, plus my selection of warming winter recipes – raw vegan yet still fuel for your inner fire.
Cozy through the cold season: How to stay warm in winter
1. Get moving
Staying active during the colder months might not sound too appealing to you – but it really helps your blood circulation delivering oxygen to all your cells, giving your skin a healthy glow and warming your body for quite a while after your workout as well. Go to yoga, to the gym, do exercise at home – it does not need to be hours at a time, just 15 minutes will do, especially if you choose HiiT, high intensity interval training.
2. Dress appropriately
When I moved from Australia to Canada, I had almost no winter clothes – but I suffered only briefly before I decked myself out with some fuzzy socks! Warm feet make all the difference, and so do warm wrists. Cold hands and feet happen due to the fact that our skin is thinner there, and also because blood circulation in our extremities is less good compared to the rest of our bodies.
Wearing shoes that are too tight are therefore not a good idea, as they will restrict blood circulation in your feet even more – if you do believe you need to wear those ultra tight boots, take them off as much as you can (slippers at work, anyone?) and show your feet some love by giving them a good rub after freeing them from their prisons.
3. Drink up
Being in a colder environment lets us believe that we do not need to drink as much – so wrong! Not only is the air during winter often super dry, be it due to the heaters indoors or also outside (When skiing, make sure you drink up – and not the Jägermeister kind!) , but dehydration also leads to feeling colder than you actually are. Oh, and go pee. Having to pee makes many feel really cold as well.
4. Snooze more
We might not be more or less hairless bears that actually hibernate, but often enough we do feel like it and would love to – so make sure to sleep more when your body asks for it!
And aside the fact, that sleep deprivation turns us into grumpy people who age faster, lose weight less easily, think more slowly and have reduced judgement (especially about judging whether we slept enough), it also makes us feel clammy and cold.
All these effects are a result of sleep deprivation slowing your body's metabolism.
The process of breaking down molecules which your body requires to function (as well as digesting food) is the main way your body generates heat.
And if there is not enough fuel, your inner fire will be smaller and you feel cold.
5. Eat enough
As mentioned in #4, your body produces heat from what you feed it with.
This is why we often also feel cold when we are on a calorie reduced diet or a juice fast.
Make therefore sure you are not starving yourself when you tend to feel cold a lot.
Aside amounts, the kind of ingredients you eat will have an effect as well.

Of all foods, there are some that are cooling for your body (e.g. watermelon, cucumber) and also many that are warming, especially spices – enjoy those during cold days and nourish your body and soul! These are my favorite winter recipes:
Having greens is SO good for you! They are nutrient dense with vitamins and minerals such as vitamin C for immunity and anti-aging, vitamin A for your vision and skin, folate, potassium and magnesium; they contain healthy fiber, are quick and easy to make and are perfect if you are on the go – simply pour them into mason jars and take them with you or store for up to 24 hours.
Chai Spices are amongst my favorite when it comes to teas, and in combination with liquorice, even better! Try it 🙂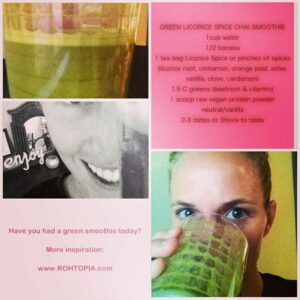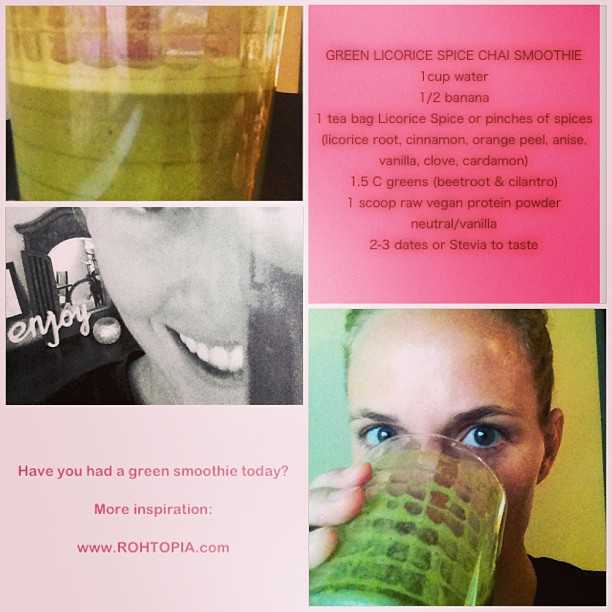 Kale Chips are an awesome source of greens in winter! Just like with green smoothies, they are a very sneaky and enjoyable way of getting more leafy green vegetables into your body. They are prepared within minutes, and the drying process will let delicious scents waft through your house. You can prep all kinds but these are some I really enjoy in winter:
Whether you use butternut squash or another kind, this soup is SO delicious! Remember to have your ingredients at room temperature and blend everything with hot water.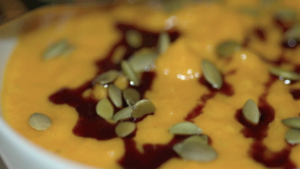 So good and so quick and easy to prepare – a divine taste chock-ful with nutrients! All you need are almonds, raisins (but dates would do, too), some oil, sweetener and spices.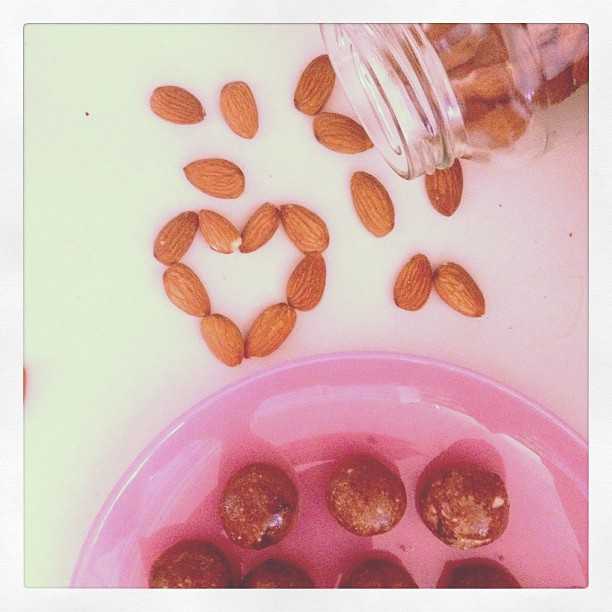 Some call it Golden Latte because of the turmeric's color, I prefer Tiger Milk, it warms you from the inside and gives you the energy needed to get through dark days. This creamy drink will ignite your inner fire with cinnamon, ginger, turmeric and a sprinkle of chili. Feel free to change up the spices and use hot water or blend it for several minutes to make it even more enjoyable!
During the colder months, eating more dense foods will help you feeling full and warm longer. These crackers are great in several ways: The ingredients are easy to get, the nut flour can even be leftover pulp from making almond milk, and the taste is just divine. Enjoy the crackers with the pumpkin soup mentioned above, or with a creamy spread.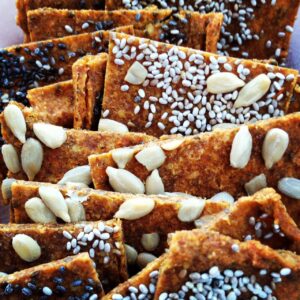 How do you stay warm in winter?
Comment below 🙂