This smoothie was one of the biggest surprises in my smoothie making history 😄 Never would I have thought that avocado, dill and lime go so well together and taste incredibly creamy + refreshing.
Have you ever had avocado in a smoothie before?
Ingredients for 2:
1 cup of liquid *
1 avocado
1 cucumber
1/2 bunch of dill
1 lime, juiced
sweetener of choice *, to taste
How to make this smoothie:
Remove the skin and stone from the avocado.
Roughly chop the cucumber and dill.
Squeeze all the lime juice into a blender container.
Add all other ingredients except stevia.
Blend on low then high speed until creamy.
Sweeten to taste with stevia or another sweetener of choice.
Enjoy!
Ps. To learn how to always make a perfect smoothie, read this.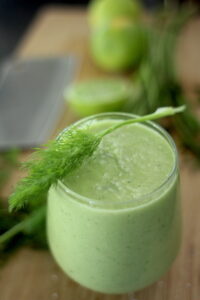 * Notes: *
C = cup, 240 ml
1/2 C = half a cup, 120 ml or / TBSP
1/4 C = quarter of a cup, 60 ml or 4 TBSP
TBSP = table spoon, 15 ml or 3 tsp
tsp = tea spoon, 5 ml
"soft dates" = medjool are usually best. If necessary, soak briefly and drain. The soaking water is super sweet by the way!
liquids for smoothies = water, coconut water, any nut milk of choice
sweetener of choice = dates or other dried fruit, xylitol, rice syrup, yacon syrup, stevia, maple syrup, honey, agave nectar