I am all for easy, quick + simple recipes full of green goodness – but every now and then, it is CAKE TIME, especially if one of your best friend's birthday is around.
This recipe for raw vegan cheesecake tastes and looks amazing, and it is less work than you would expect:
The almond-cinnamon chocolate used as icing doubles up for the chocolate hearts and the chocolate filling, and if you choose to make a 2 level cake, you can work on both levels at the same time – the whole process should take you less than 1 hour (not including soaking and freezing times).
*Note: The cake in the image above looks white because it is straight out the freezer – once thawed for 10 minutes, the snow effect will have disappeared.
Recipe for raw vegan Black Forest Chocolate Cherry Cheesecake
for 1x 24 cm cake tin + 1x 9 cm food ring (or just 1 cake with 24cm diameter) 
Start by making the cake crust, then filling, and finally the chocolate.
Ingredients for the CRUST:
1 cup pecans *
1 cup almonds *
1 cup dates (10 medjool)
3 TBSP raw cacao or cacao nibs
1/2 vanilla bean, scraped
1/4 tsp sea salt
* 2 cups of nuts, you could use only almonds or pecans as well, or hazelnuts or walnuts, or a blend.
Ideally, the nuts have been soaked & dehydrated.
Preparation of the cake CRUST:
Chop dates, then process them with the other ingredients in your food processor of blender.
The longer you process the crust, the smoother it will be – so if you would like a bit of crunch and texture, only process until the dough starts sticking together.
Line a cake tin with parchment paper.
Press dough into cake tin (and a 2nd, smaller one if you want to go for the 2 level cake).
Freeze while making the filling.
Ingredients for the FILLING:
3 cups cashews, soaked for 2 hours minimum, or overnight
3/4 cup water
3/4 cup agave or apple syrup
1/2 cup lemon juice, fresh
lemon zest, organic + scrubbed under hot water
1/2 vanilla bean, shell + seeds
3/4 cup coconut oil
1/4 tsp sea salt
cherries, fresh or frozen, pitted
Preparation of the FILLING:
Rinse + drain the cashews.
Blend with other ingredients except for the coconut oil and the cherries:
Start blending on low speed, then increase to the highest speed.
If the cashews start moving up the blender container walls, scrape them back down with a spatula.
Turn the blender OFF while doing this, too many spatulas have lost their lives in blender blades, plus no one wants spatula plastic in their cake!
Once the ingredients have combined to heavenly creaminess, add the coconut oil while the blender is ON.
Recipe for raw vegan Almond Cinnamon Chocolate
Ingredients:
3/4 cup coconut oil
1/2 cup raw cacao powder
3 TBSP almond butter
2-3 TBSP coconut syrup or agave nectar
1/2 – 3/4 tsp cinnamon
pinch of sea salt
Preparation:
Place coconut oil, almond butter and sweetener in a bowl.
Stir with a fork until well combined.
Add the cacao, cinnamon and salt, stir again until really well blended, no crumbs left whatsoever.
Do a little taste test because .. chocolate 🙂
Pour chocolate into chocolate moulds and freeze if you wish to make pralines as well – otherwise, simply pour chocolate onto cherries and onto the cake as explained below.
Assembly of the chocolate crust, cheesecake filling + chocolate decoration: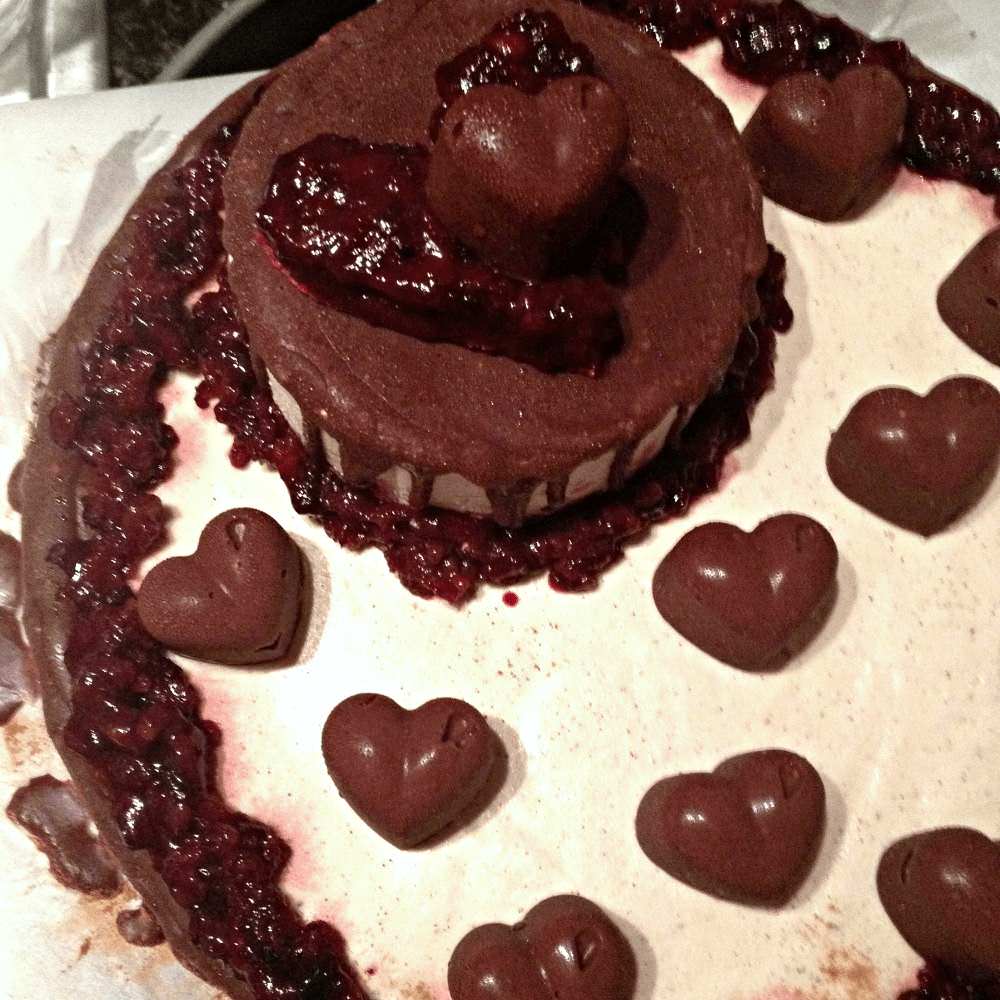 Spread 1/2 of the filling onto the crust.
Distribute the cherries evenly all over the cake.
Drizzle chocolate over the cherries.
Cover with the remaining cream.
Sprinkle cinnamon onto the cake.
Freeze it until it is firm enough to be removed from the cake tin – around 1 hour, depending on the strength of your freeezer and the thickness of your cake (if you use a smaller cake tin, the cake will obviously be higher than in a wider tin, and therefore take a bit longer to freeze).
Once firm enough, remove the tin from the cake and decorate it to your heart's content:
Place more chocolates onto the cake
Drizzle chocolate sauce along the rim of the cake or all over the cake.
Puree leftover cherries and spread the cherry puree along the chocolate drizzle or shape a heart like in the picture, on top of the 2nd level.
Take it further and cut out hearts from fruit roll ups / fruit leather (in the picture: raspberry) and scatter them all over the cake.
Freeze the cake until 20 minutes before serving so it has time to thaw and be the most delicious, flavourful, creamy chocolate cherry cheesecake experience you could ever imagine.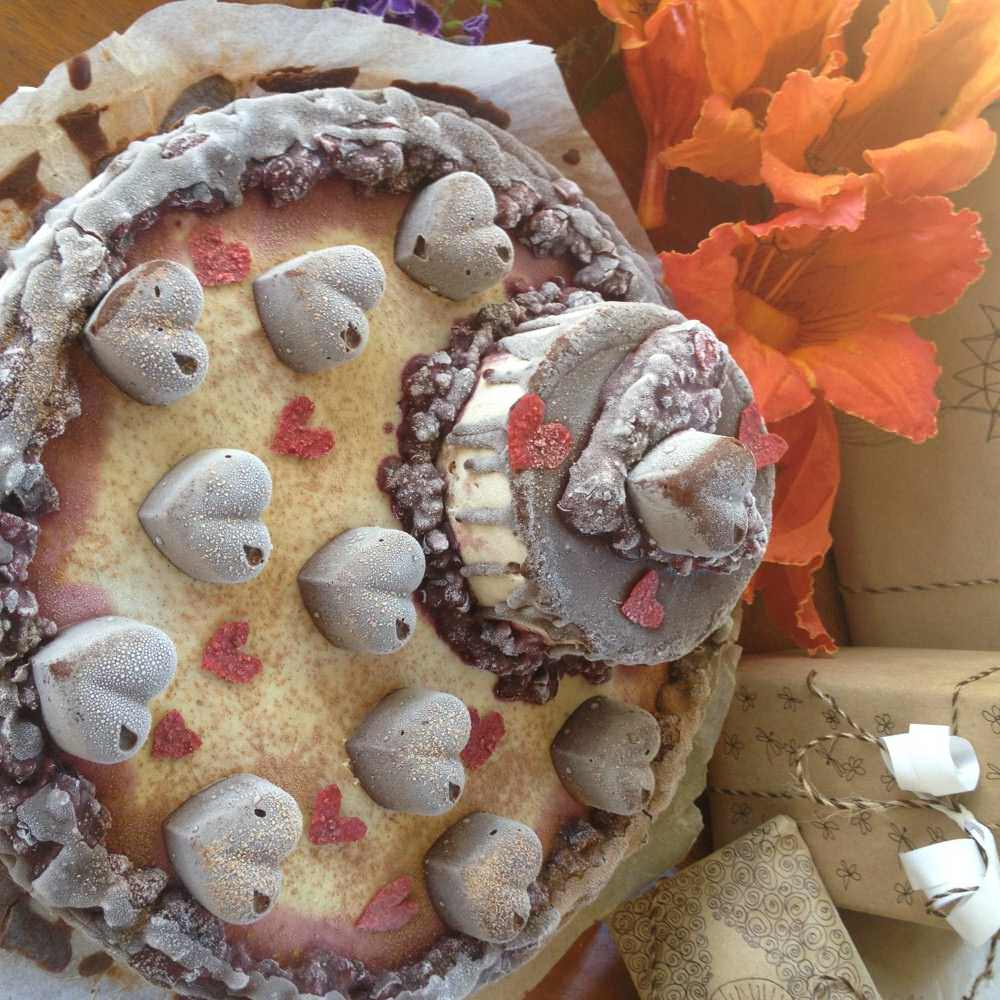 Notes:
C = cup, 240 ml
1/2 C = half a cup, 120 ml or / TBSP
1/4 C = quarter of a cup, 60 ml or 4 TBSP
TBSP = table spoon, 15 ml or 3 tsp
tsp = tea spoon, 5 ml
"soft dates" = medjool are usually best. If necessary, soak briefly and drain. The soaking water is super sweet by the way!