These raw Caramel Bars are incredibly delicious!
No baking required, and perfect for those days when you have only leftovers in your pantry 😃
RECIPE FOR 20 RAW VEGAN CARAMEL SLICES
Ingredients – Base:
1 cup oats (105g)
1/4 cup almonds (35g)
1/4 cup Coconut flakes (17g)
3 TBSP coconut palm sugar
1/2 tsp vanilla extract or 1/4 pod
1/4 tsp sea salt, coarse
2 TBSP water
Preparation – Base:
In your blender or food processor, grind oats to flour.
Put into bowl.
Grind almonds and coconut flakes as well, add to the bowl.
Add remaining ingredients, stir dough, adding water little by little, until the mix starts to stick together.
Line a square cake tin with parchment paper.
Gently press dough into tin.
Use a spare piece of parchment paper to flatten out the surface of it.
Place into freezer while prepping the rest of the recipe.
Ingredients – Caramel Layer:
1 cup soaked + drained cashews
1 cup date paste
3 TBSP coconut oil
3 TBSP liquid sweetener – agave, maple, yacon, apple syrup, honey (not vegan)
1/2 tsp vanilla extract
1 pinch of sea salt
water as needed
Preparation – Caramel Layer:
Blend drained cashews to a paste.
Scrape down the walls of the blending container to get all bits small.
Add coconut oil, vanilla + sea salt, blend again.
Add date paste, blend until well combined.
If needed, as water little by little.
Spread caramel onto base.
Freeze while making the chocolate.
 Ingredients Chocolate Icing:
1/2 cup coconut oil or cacao butter (or half & half)
1/2 cup liquid sweetener – maple syrup, agave, yacon, apple syrup, honey
2/3 cup raw cacao powder
1 pinch of sea salt
 Preparation Chocolate Icing:
Stir all ingredients together until smooth.
Pour over caramel layer.
Freeze until serving.
The slices will not need a lot of defrosting before serving.
They should be kept in the refrigerator at all times – unless they are on their way into your mouth.
ENJOY!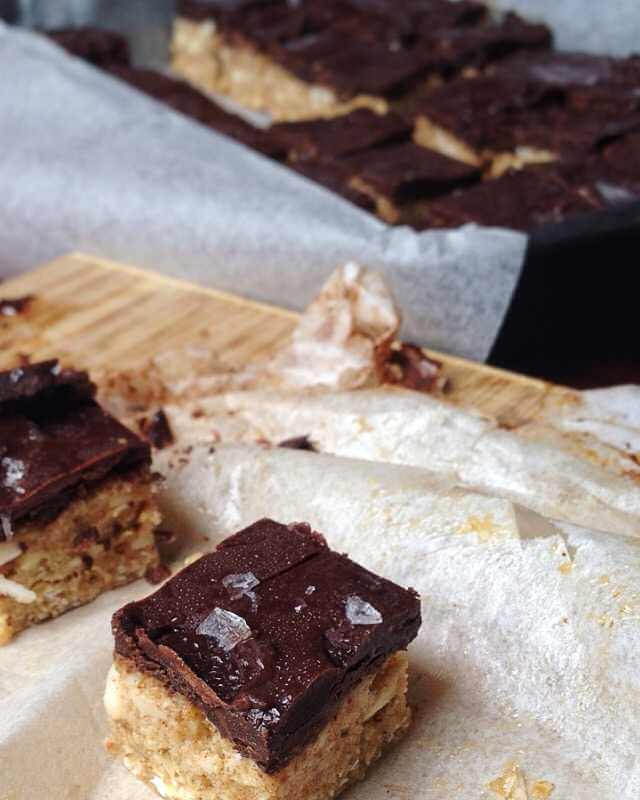 Notes:
C = cup, 240 ml
1/2 C = half a cup, 120 ml or / TBSP
1/4 C = quarter of a cup, 60 ml or 4 TBSP
TBSP = table spoon, 15 ml or 3 tsp
tsp = tea spoon, 5 ml
"soft dates" = medjool are usually best. If necessary, soak briefly and drain. The soaking water is super sweet by the way!