For me, good bread is made with only a few natural ingredients, soft yet firm on the inside, with a crunchy shell.
To find a bread like this can be quite a challenge, especially if you want it to be gluten free and ideally even RAW. 
With this recipe for gluten free bread, you will never have to be without delicious, soft bread surrounded by a crisp crust. 
RECIPE FOR 1 LOAF OF BREAD
Ingredients:
1 cup buckwheat, sprouted + dehydrated
1/2 cup flax seeds
1/4 cup psyllium husk
1/4 tsp sea salt
1 pinch of cumin
*
1 zucchini
1 date or 1/2 TBSP agave nectar
1/2 lemon, juice
1/2 cup of water
1 TBSP sesame seeds for decoration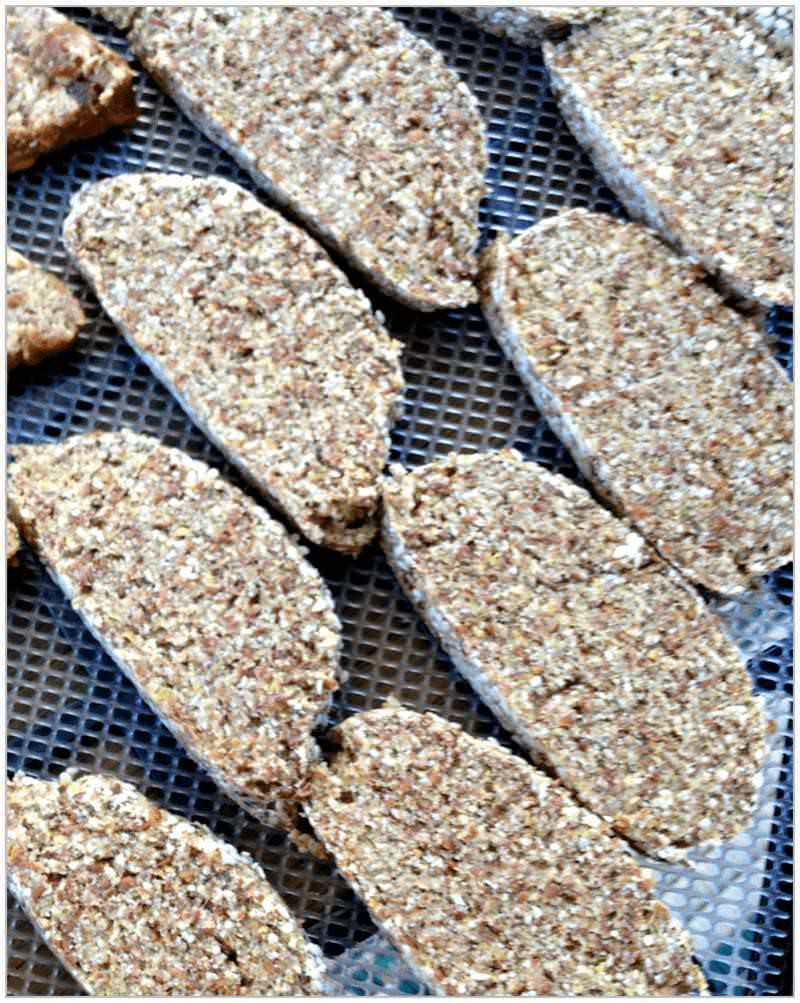 Preparation:
In your blender, blend buckwheat, flax seeds and psyllium husk to flour-like consistency.
Place flour into a bowl.
Mix in sea salt and cumin.
Peel the zucchini.
Blend with the remaining ingredients except for the sesame.
Combine with the flour.
The dough should be elastic, soft and holding together fairly lightly – a sticky, wet dough only extends the dehydration period.
Shape dough into the form of a lengthy loaf.
Sprinkle with sesame.
Dust the base with a bit of ground buckwheat for a flour-dusted effect.
Place on a piece of baking paper and dehydrate at 115 F for 2 hours.
This will create the crust.
Cut into slices, remove the baking paper, dehydrate at 108 F for another 4 hours.
The longer the bread stays in the dehydrator, the drier and crunchier it will get.
After 4 hours, it should still be soft and pliable, but not moist and doughy.
Notes:
C = cup, 240 ml
1/2 C = half a cup, 120 ml or / TBSP
1/4 C = quarter of a cup, 60 ml or 4 TBSP
TBSP = table spoon, 15 ml or 3 tsp
tsp = tea spoon, 5 ml
"soft dates" = medjool are usually best. If necessary, soak briefly and drain. The soaking water is super sweet by the way!