This cake is SO easy to make! I was 12 when I first made it, back then with regular dairy, sugar and gelatine.
The other day I thought of the recipe again, and with a few twists, turned it into a vegan yogurt cake, without the sugar or milk, and with Irish moss instead of the gelatine.
Definitely try this one!!
Recipe: No Bake Vegan Yogurt Cake with Berries
Ingredients for the base:
1 cup almonds, ground
1/2 cup buckinis or coconut flakes
4 – 5 soft dates, pitted
1/4 tsp sea salt
Ingredients for the filling:
400 g coconut yogurt
1/2 cup Irish moss paste
1/4 cup liquid sweetener – agave, xylitol, maple syrup, coconut nectar, rice syrup
juice of 1 lemon
1/2 vanilla bean, seeds only
Fruit puree:
150g berries, fresh or frozen
1 TBSP lemon juice
1 TBSP liquid sweetener
optional: 3 TBSP psyllium husk
Preparation:
For the base, mix all ingredients in your blender or food processor until the dough starts to stick together.
Press into a cake pan, chill in the fridge.
For the berries, defrost them, then blend with the other ingredients, set aside while making the filling.
For the filling, blend all ingredients – make sure that you have rinsed your soaked Irish Moss properly before blending it up!
Line the walls of your cake pan with parchment paper or plastic foil. This will help getting the cake out of the pan later.
Pour filling onto the base.
Cover with berry puree – either pour all over the filling, or fill into a piping bag and draw circles onto the cake. Use a wooden stick to draw lines from the centre to the edge of the cake for a pretty pattern.
Let the cake chill in the fridge for 4 to 5 hours before serving it.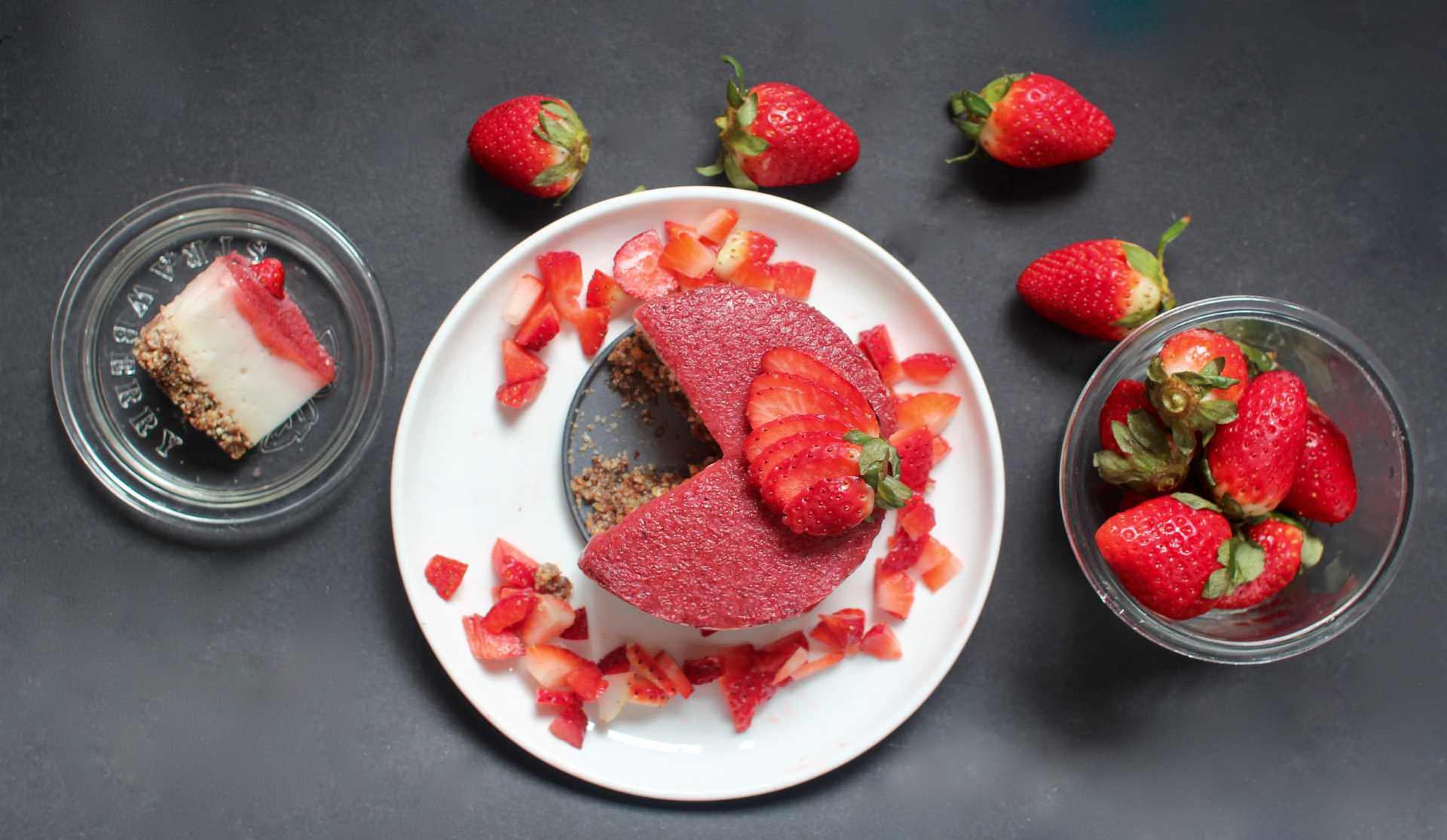 I used 2 small cake pans for this recipe, 10cm diameter and 4cm tall – that's why the strawberries on the photo look like giants!
You can of course use a larger pan as well. The ingredients will also fit the following sizes:
12 cm diameter, 5 cm tall
14 cm diameter, 4 cm tall
The following cake pan sizes require twice the amount of ingredients (otherwise the cake will turn out very, very flat):
18cm diameter, 5 cm tall
20cm diameter, 4 cm tall
And this size requires triple the amount of ingredients:
24 cm diameter, 4 cm tall
Notes:
C = cup, 240 ml
1/2 C = half a cup, 120 ml or / TBSP
1/4 C = quarter of a cup, 60 ml or 4 TBSP
TBSP = table spoon, 15 ml or 3 tsp
tsp = tea spoon, 5 ml
"soft dates" = medjool are usually best. If necessary, soak briefly and drain. The soaking water is super sweet by the way!