Raw vegan cheesecake has been around for a while now, so let's add a little colourful twist to this classic raw vegan dessert!
Instead of just making one large cake, I chose to make several smaller ones to create a  4 tier cake – fancy enough for any celebration, easy enough for a regular weekday, at least in my house 🙂
I also added green, yellow, pink and blue food color to the cheesecake, all fully natural and plant-based.
Makes 1 regular sized cake or 4 mini cakes.
Ingredients for the base:
1 C almonds
1 C buckinis or coconut flakes
1 TBSP honey or other liquid sweetener of choice (agave nectar, apple syrup, coconut nectar, maple syrup)
1/4 tsp sea salt
How to make the base:
Using a blender or food processor, grind the nuts and buckinis /coconut into flour.
Add the remaining ingredients and process to combine.
Press evenly into a deep dish – a cake pan or deep baking tray lined with baking paper.
Leftover dough? Roll into balls to decorate the cake later.
Set aside in the freezer while making the filling.
Ingredients for the filling:
2 C cashew nuts, soaked over night + drained
1 cup (coconut) water or any plant milk (almond or coconut works best)
2 passion fruits or juice of 1 large lemon
1/3 C liquid sweetener (I used rice syrup, but agave, coconut nectar work just as fine)
1/2 C coconut oil
1/2 vanilla bean or 1 TBSP vanilla essence
How to make the filling:
Blend all ingredients until completely smooth, add the coconut oil in the end.
Divide the mixture into 4 parts, stir 1/2 tsp of color into each one:
green – liquid chlorophyll or spirulina powder
yellow – turmeric or saffron
red – beetroot powder
blue – Blue Magic spirulina powder
Assembly:
Get the cake base(s) out of the freezer.
Spoon the colored mixtures onto each base.
Use a chopstick to create a marble effect on the surface.
Gently tap the cake pan onto your work bench to get rid of any bubbles and to flatten the surface of your cake.
Place in the freezer for a few hours to set.
Once ready to serve, decorate with coconut flakes, cacao nibs and bliss balls.
The frosting can be made with raw vegan almond yogurt – find that recipe HERE.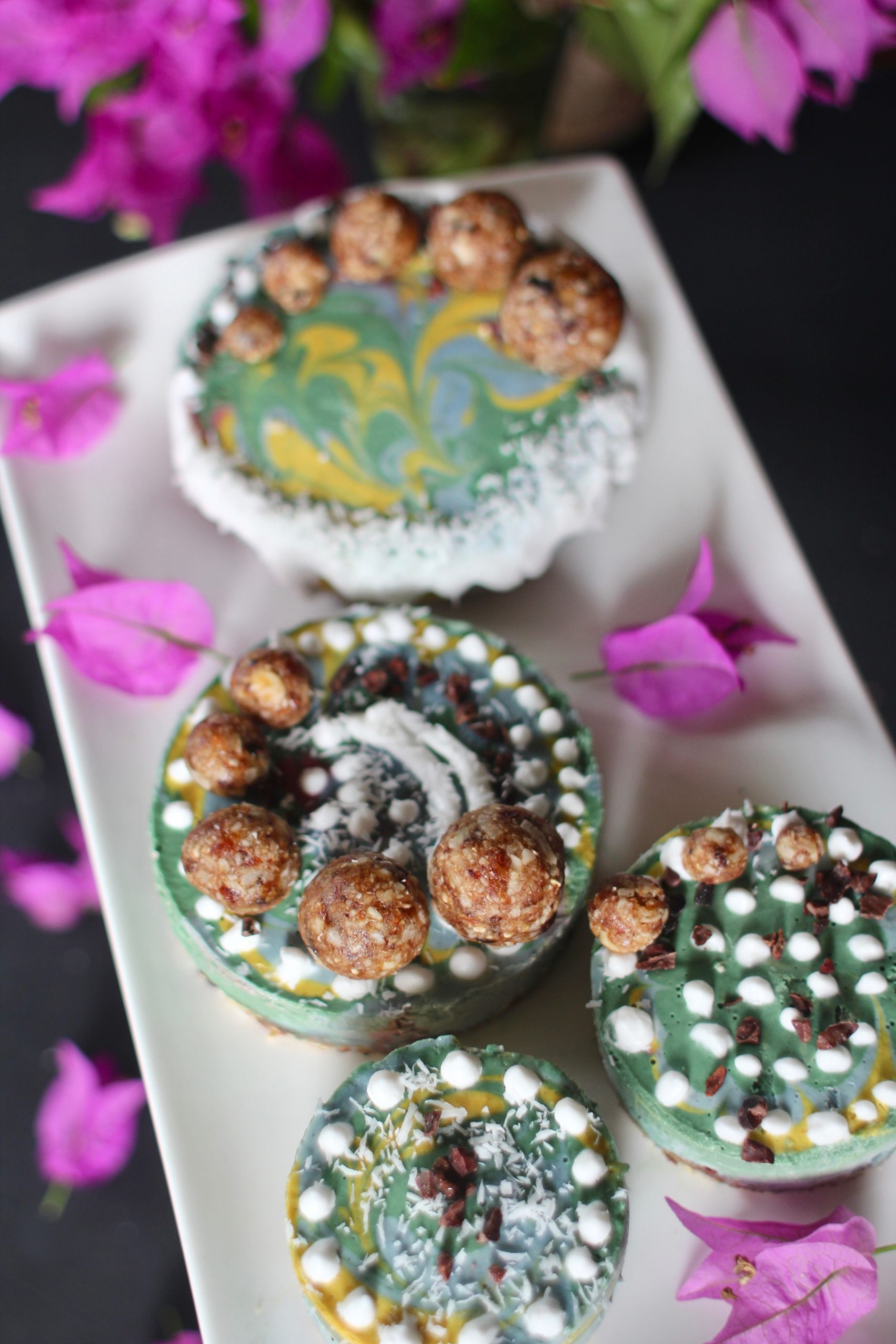 Notes:
C = cup, 240 ml
1/2 C = half a cup, 120 ml or / TBSP
1/4 C = quarter of a cup, 60 ml or 4 TBSP
TBSP = table spoon, 15 ml or 3 tsp
tsp = tea spoon, 5 ml
"soft dates" = medjool are usually best. If necessary, soak briefly and drain. The soaking water is super sweet by the way!