Have you ever been to Bali? If so, you maybe fell in love with Satay just like I did. This creamy, spicy, sweet and savoury peanut sauce is so delicious that I'd lick my plate clean every single time.
This recipe is a raw vegan version of the classic Satay sauce. It is soy-free and keeps for up 2 weeks if stored refrigerated.
Ingredients:
1/2 cup water
1/2 cup nuts – cashews or natural peanuts
1/4 cup tahini
1/4 cup almond butter or natural peanut butter
2 TBSP coconut amino acids or tamari sauce
1 TBSP apple cider vinegar
2 cm fresh ginger, grated
1 clove of garlic, peeled
1 pinch of sea salt
optional: fresh or dried chili if you like it spicy
How to make the satay sauce:
Combine all ingredients in a blender and process until combined.
Only add water bit by bit until the sauce is pourable but still thick.
Season with extra coconut aminos or tamari to taste.
Store refrigerated in an airtight jar for up to 2 weeks.
Ingredients for 1 large Buddha Bowl:
1 large zucchini, spiralised
1 carrot, julienne
1/4 red cabbage, finely sliced
1/2 cup leafy greens (baby spinach, kale or rocket etc – chop if leaves are too big)
1 TBSP crispy onion rings
Garnish: sesame seeds + herbs such as parsley, basil or cilantro
How to assemble the Buddha Bowl:
Combine all ingredients except herbs in a large bowl.
Drizzle with satay sauce.
Sprinkle with herbs and sesame seeds.
If you prefer a warm Buddha Bowl, place in the dehydrator at 42 degrees for 1 hour before serving.
Garnish with herbs such as cilantro, parsley or basil.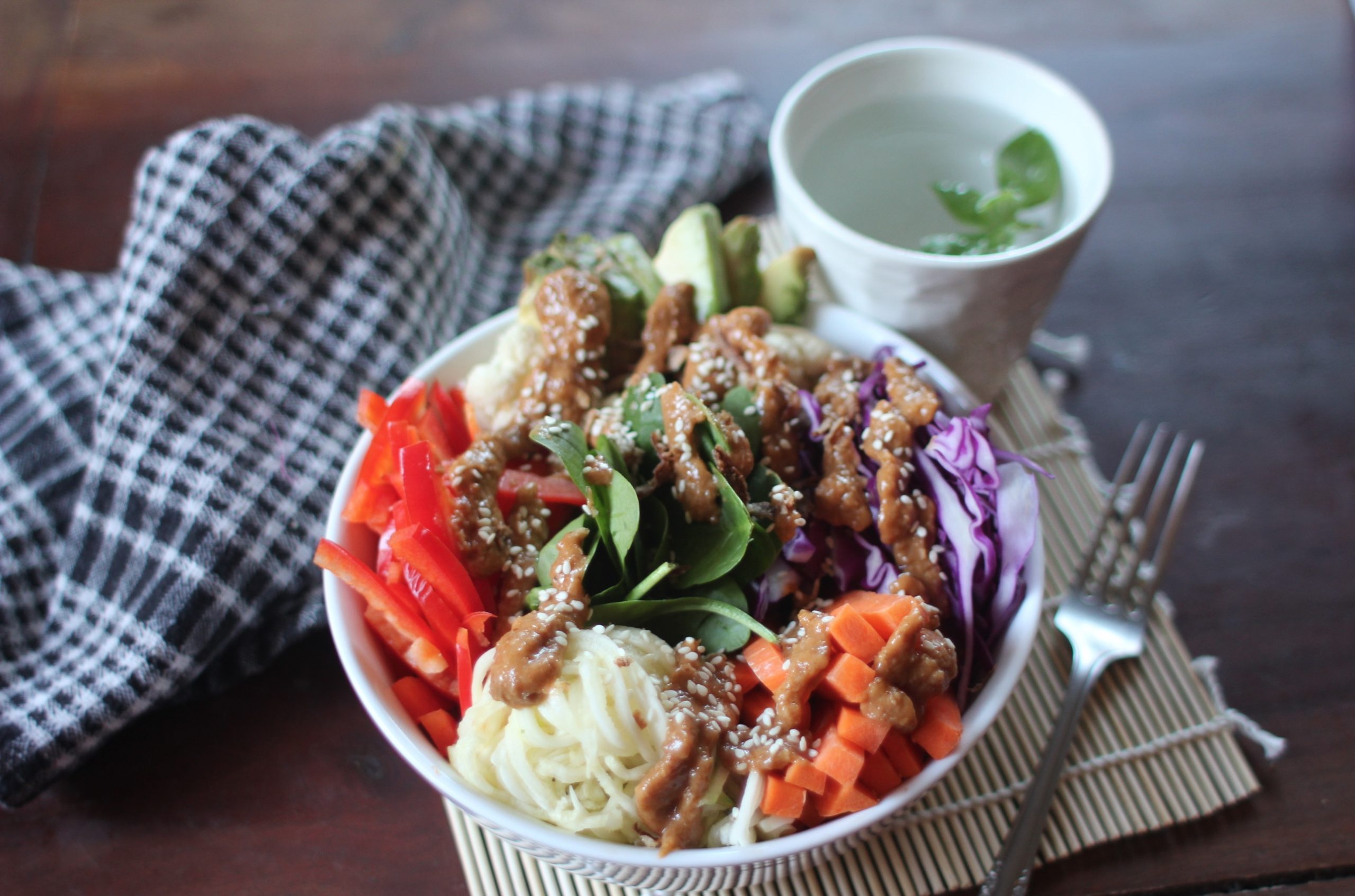 Notes:
C = cup, 240 ml
1/2 C = half a cup, 120 ml or / TBSP
1/4 C = quarter of a cup, 60 ml or 4 TBSP
TBSP = table spoon, 15 ml or 3 tsp
tsp = tea spoon, 5 ml
"soft dates" = medjool are usually best. If necessary, soak briefly and drain. The soaking water is super sweet by the way!