When I discovered chocolate turtles in Canada, it was obvious that a raw vegan version of these was absolutely essential to be created – and here we are, with raw vegan chocolate turtles so good you better lock them up in a safe place. Or mail them to me. I will take care of them, no worries 🙂
RECIPE FOR RAW VEGAN CHOCOLATE TURTLES
Ingredients for 10 raw vegan chocolate turtles:
25 pecans
Caramel:
4 dates, soaked for 5 minutes in warm water
1/2 vanilla bean, seeds only
1.5 TBSP almond butter
1 TBSP cold pressed coconut oil, melted
1 pinch sea salt
Chocolate:
6 TBSP cold pressed coconut oil, melted
4 TBSP raw cacao powder
2 TBSP liquid sweetener of choice *
* suitable liquid sweeteners: coconut nectar, maple syrup, agave, yacon, xylitol
How to make raw vegan chocolate turtles:
Place a baking tray covered with parchment paper in the freezer for later.
Blend all ingredients for the caramel.
If necessary, add a little bit of date soaking water to get the blender going, but keep it to a minimum, otherwise the caramel becomes to runny.
Stop the blender to scrape down the sides a few times and blend everything until smooth.
Place in a bowl and put into freezer to chill while getting the pecans ready.
Slice 20 pecans lengthwise, and break the remaining 10 pecans in half.
Get the tray with parchment paper out of the freezer and create a turtle design with the pecans:
Use 4 long halves for the legs, and one broken half for the head. You can also use whole pecans of course, but then the turtles will be quite big.
Spoon 1 small dollop of caramel onto each turtle.
Place back into freezer while making the chocolate.
Melt the coconut oil for the chocolate, ideally in a metal bowl over a pot with hot water.
Stir in the other ingredients.
Get the turtles out of the freezer, cover each one with chocolate so only the head + legs show.
Place back into freezer to set for a few minutes.
Enjoy. And store leftovers in the fridge. If there are any. Probably not. You're welcome.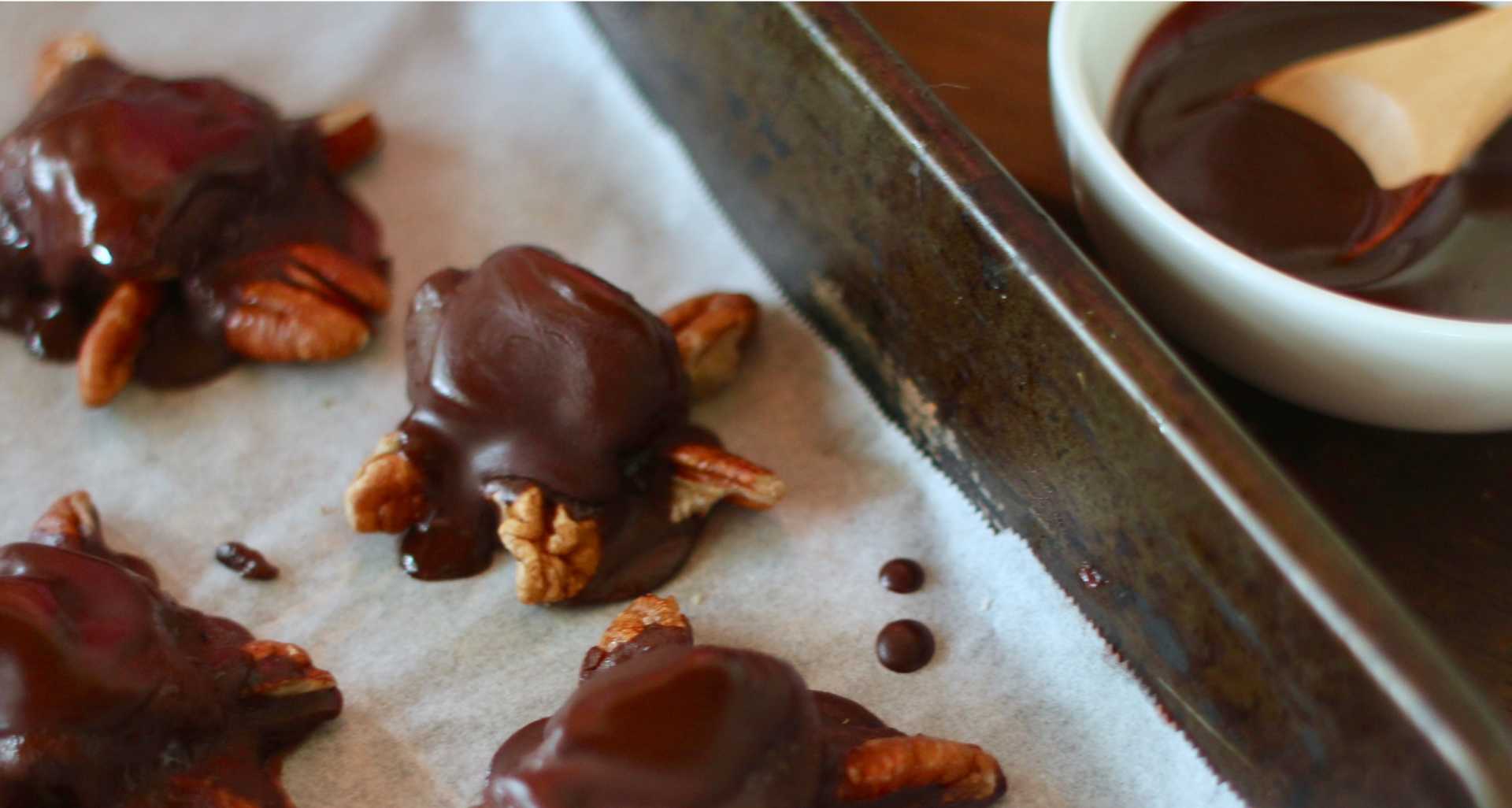 Notes:
C = cup, 240 ml
1/2 C = half a cup, 120 ml or / TBSP
1/4 C = quarter of a cup, 60 ml or 4 TBSP
TBSP = table spoon, 15 ml or 3 tsp
tsp = tea spoon, 5 ml
"soft dates" = medjool are usually best. If necessary, soak briefly and drain. The soaking water is super sweet by the way!