Carrots are awesome – this is what they can do for you:
GOOD VISION
your body uses the carrots' nutrients to build pigments – essential for clear day and night vision.
CANCER PROTECTION
your body uses the carrots' phyto nutrient falcarinol as a protection from cancer, and its beta carotin to produce vitamin A (100ml carrot juice cover your recommended daily intake) which prevents the degeneration of healthy cells and even reverts them back.
GORGEOUS SKIN
extra beta-carotin is stored in your skin cells and does not only provide a light tan, but also protects you from the sun with an SPF of up to 4. Important: A few drops of oil let you absorb the nutrients even better.
STAYING YOUNG LONGER
carrot juice increases your antioxidant status and cell protection, it reduces your blood pressure and the risk of cardio- vascular diseases.
AND THEY ARE RICH IN
iron, calcium potassium, zinc, vitamin C, vitamin K, folic acid and fiber.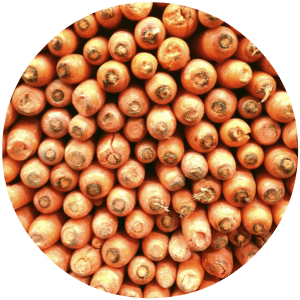 WHAT'S YOUR FAVORITE CARROT RECIPE?
Comment below 🙂