You might not have an ice cream maker, maybe not even a blender – but as long as you've got a freezer, there are still frozen treats for you to enjoy!
You may have already enjoyed the tried and tested my Kiwi Popsicles, and if you liked those, you will love these Chocolate Banana Popsicles – raw ice cream desserts are sweet treats without the guilt since you can avoid all the useless ingredients found in store-bought ice cream.
RECIPE FOR CHOCOLATE BANANA POPSICLES
Ingredients for 4 popsicles:
2 large or 4 small, ripe bananas
1 C raw chocolate
1 TBSP coconut oil
4 wooden popsicles skewers
1/2 C mixed nuts (almonds, walnuts, peanuts, pecans, etc)
How to make the popsicles:
Peel bananas, cut large ones in half.
Stick each piece on a wooden popsicle skewer.
Place on a plate and freeze until solid.
Break the chocolate into pieces and melt it together with the coconut oil in a bowl over hot water (or in a bain marie).
While the chocolate is melting, coarsely chop the nuts.
Take the bananas out of the freezer and dip into the melted chocolate.
Sprinkle chopped nuts all over – move quickly as the chocolate will firm up almost immediately.
Once coated, place the popsicles back in the freezer for a short time.
Store in a sealed container or wrapped individually in parchment paper in the freezer.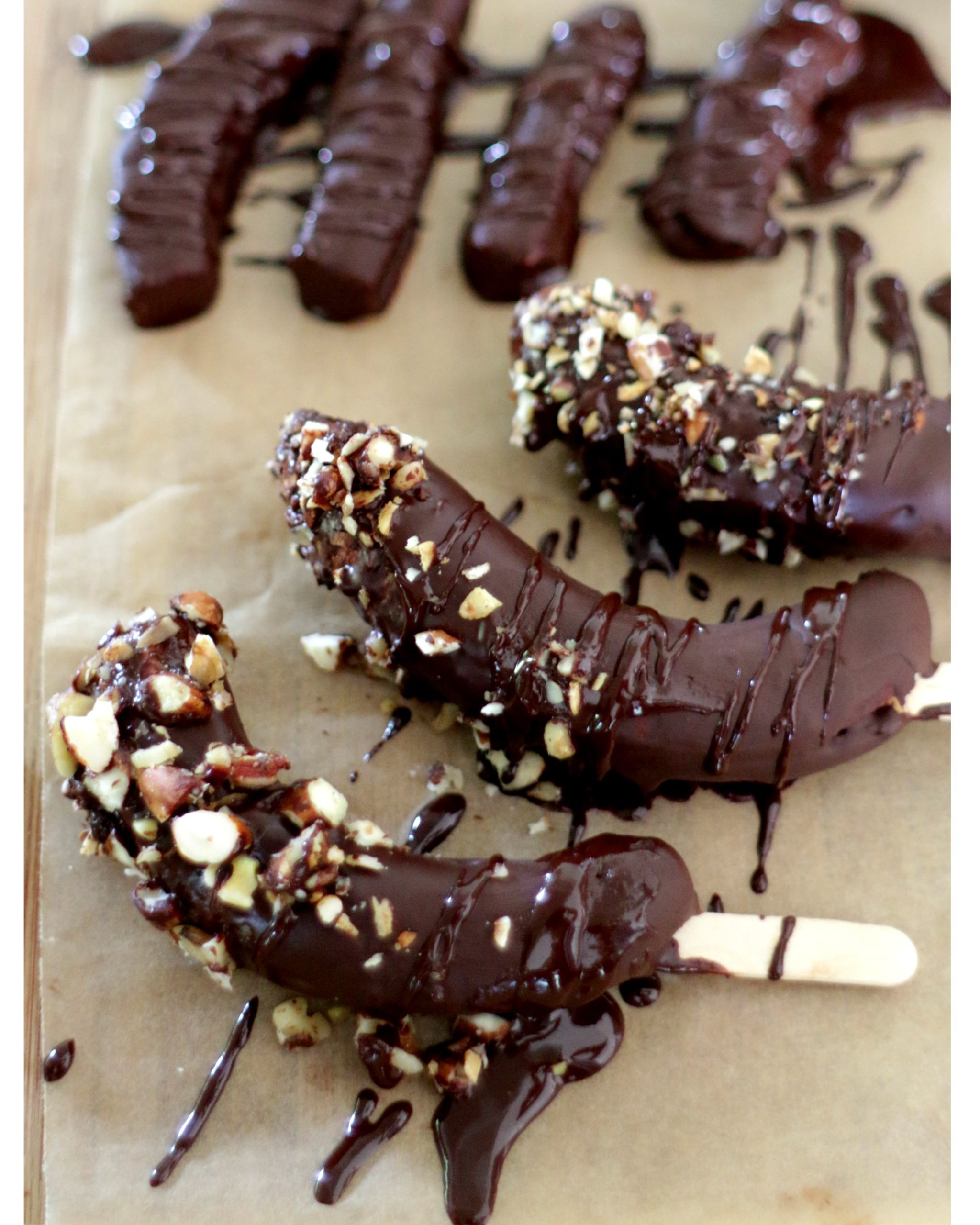 Notes:
C = cup, 240 ml
1/2 C = half a cup, 120 ml or / TBSP
1/4 C = quarter of a cup, 60 ml or 4 TBSP
TBSP = table spoon, 15 ml or 3 tsp
tsp = tea spoon, 5 ml
"soft dates" = medjool are usually best. If necessary, soak briefly and drain. The soaking water is super sweet by the way!