Often enough the question arises, which blender should I get, there are so many brands! Does it have to be that expensive or will a cheap one do? What is actually important when purchasing a kitchen blender? And where can I buy a good blender in Germany, where can I get a Vitamix  in Austria, where can I buy a Vitamix internationally? 
How to choose which blender to get has already been explained here and where to get a Vitamix other than on Amazon will be written about shortly.
BREVILLE BLENDER COMPARISON: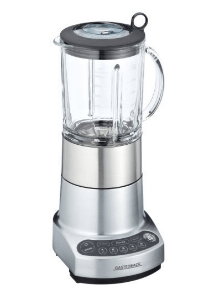 1. Breville. 33 x 33 x 25 cm, 6 kg incl packaging. stainless steel. 1,5l container. 1200 Watt in Europe and Australia, 650 Watt in the US. Around 230 Euro or 200 USD.
My first blender, with a glass container and stainless steel body, looked great and worked .. fairly well until I started adding leafy greens to my smoothies and tried making cookies – the leafy greens wrapped around the blades, the cookie ingredients killed the blender completely.
In addition, the container started leaking after I had disassembled it a few times to clean out the leafy greens. So I started researching, as I wanted to be sure to spend my money wisely.
I soon noticed that "Raw Advocates" often either use Vitamix or Blendtec. Blendtec was not available where I lived, so I got a Vitamix and have not looked back since.
VITAMIX BLENDER COMPARISON: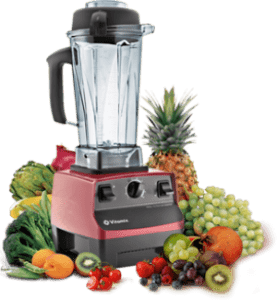 2. Vitamix. 18,5 x 21 x 51 cm, white , black , red or stainless steel. 5 kg incl packaging. 2l container, 1000-1200 Watt. From 590 Euro in EU, similar in Australia (around 900 AUD), cheaper in the US and Canada (from 500$)
My 2nd blender. There are many different kinds, the one I got was the 5200, as pictured. Taller than the Breville – and a different league! It does have the same Watt but the blades turn faster and are shaped in a different way, blend pretty much anything to dust and make the creamiest smoothies.
When making spreads etc, the ingredients sometimes get stuck on the containers' walls. For this the blender comes with a tamper with which you simply push the ingredients back down into the blades. It also comes with a recipe book and a DVD for instructions which I never watched, it is really not that complicated to use.
The blender warms up, so you can even make soup. It also has a High Speed Switch though which also activates ventilation which keeps the temperature low.
If you do not use the switch, the blender warms up after a few minutes which can be great to make Warm but still raw chocolate.
In addtion you can get up to 10 years warranty for this blender. I love Vitamix.
TRIBEST BLENDER COMPARISON: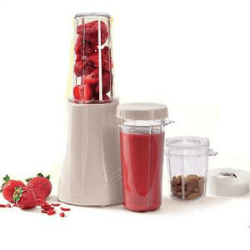 3. Tribest. 3kg  incl packaging, either with 2x300ml containers , with 2x300ml and 2x150ml containers or many containers 🙂  from  90 Euro in EU, or 60$ in the US.
I got a Tribest for travels, as it is fairly compact. Also, the container comes with a screw cap which is great – you can use it as a smoothie, juice or salad dressing container at the same time. Sounds great, is great.
But, the containers are small, not even 1/2 a litre, and it does not blend as well as the Vitamix. For travel however, that is good enough for me.
KITCHENAID BLENDER COMPARISON: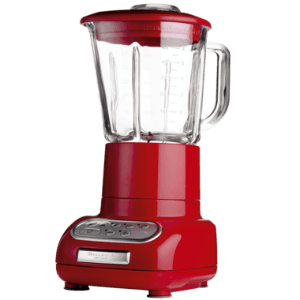 4. Kitchenaid. around 230 Euro in EU, from 100 USD.
It looks very pretty I find, retro style. I tested this blender in my relatives' kitchen. The container is made from heavy glass and the blender is available in all kinds of colours.
It is also powerful, I would say somewhere between the Breville and the Vitamix.
Personally, I like Vitamix best because
you get the tamper with it,
the container has the large volume,
the warranty lasts really long,
the container survives the dish washer,
there is not a whole lot of electronic stuff that could break,
and you can adjust the speed gradually.
Which blender do you use, and are you happy with it?
Comment below 🙂