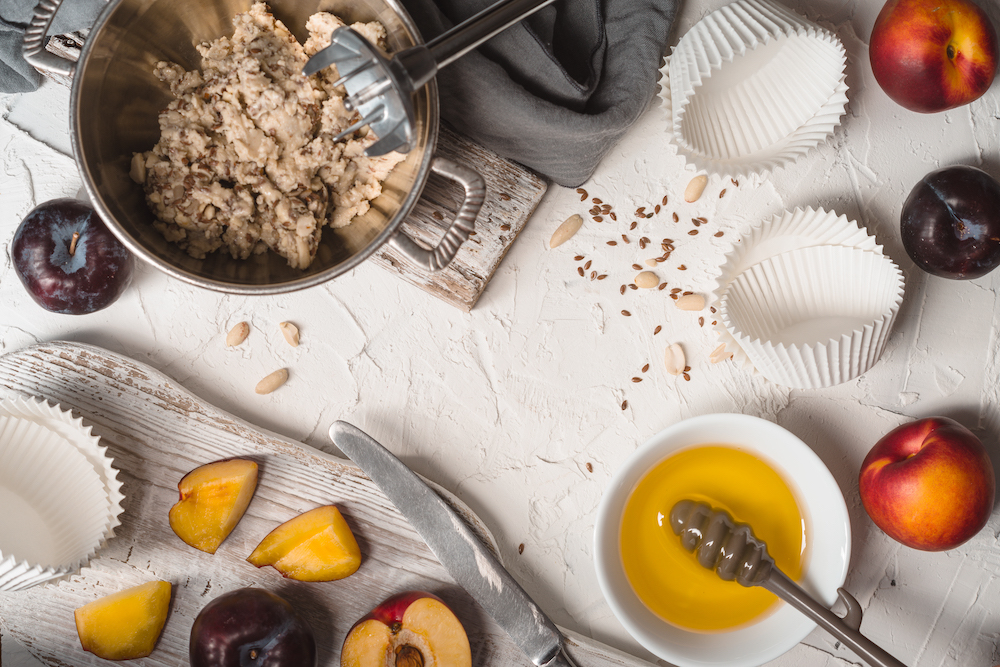 If you ever tried a raw vegan cake or pie, you already know how scrumptious they are – but did you also know HOW simple and quick it is to make their base? All you need is a good blender such as a Vitamix OR food processor, and 3 ingredients.
How to make raw vegan pie crust
The basic ingredients for Raw Vegan Pie Crust:
Nuts
Dates
Salt
#1 RAW VEGAN PIE BASE RECIPE:



This one is delicious with Pumpkin Pudding
Ingredients:
1.5 C Pecans (ideally, soaked, rinsed and dehydrated)
1/2 C dates
1 pinch of salt
#2 RECIPE FOR PIE BASE:



I used this one in the recipe for Mango Passionfruit Cake
Ingredients:
2 C coconut flakes
1 C dates
1 pinch salt
optional: vanilla
#3 RECIPE FOR RAW VEGAN PIE BASE



This one is fantastic with chocolate mousse filling
Ingredients: 
2 C macadamias – be careful not to overprocess them, they will turn into (heavenly!) macadamia butter!
1 pinch of sea salt
How to make a Raw Vegan Pie Crust:
Soak the dates for 30 minutes.
Chop the nuts.
For a crunchy crust, pulse blend them or grind only half in a high speed blender and combine with the rest.
For a smooth crust, grind all of them in your blender or food processor.
While processing the nuts, add the salt and soaked dates until the mixture just starts to stick together.
In case the dough is too dry, add a tiny bit of date soaking water.
If the mixture is too wet, add a few more nuts, some coconut flakes or half a teaspoon of psyllium husk which will absorb the moisture.
Press into one large or several small pie tins and refrigerate until filling up with your chosen pie filling.
* Notes: *
C = cup, 240 ml
1/2 C = half a cup, 120 ml or / TBSP
1/4 C = quarter of a cup, 60 ml or 4 TBSP
TBSP = table spoon, 15 ml or 3 tsp
tsp = tea spoon, 5 ml
"soft dates" = medjool are usually best. If necessary, soak briefly and drain. The soaking water is super sweet by the way!
Liquid of choice = water, coconut water, plant milk
Sweetener of choice = dates or other dried fruit, rice syrup, xylitol, stevia, coconut nectar, maple syrup, agave nectar, honey (not vegan)
MORE RAW VEGAN CAKE RECIPES FOR YOU