A dessert for inner balance and vitality doesn't exis … ? Let yourself be seduced by this sensual rose chocolate mousse, refined with the divine Macao Woman * Elixir.
It contains nothing but relaxing, balancing, rejuvenating and revitalising ingredients that bring women back to their strength every day and supports anyone who wants to balance out and soothe too much yang, i.e. fire, heat, impatience, anger or aggressiveness:
🍫 Raw cacao: rich in magnesium, uplifts mood, opens your heart.
🌸 Maca: harmonises with cocoa in taste and effect; aphrodisiac, grounding, supports the hormone system.
🍄 Reishi spores: regulate the immune system, give energy and vitality.
🌿 Shatavari: according to Ayurveda, the most important rejuvenating agent for women, calms and gives wings to the heart.
💆‍♀️ He Shou Wu: According to TCM, strengthens the kidneys, brings energy, is considered an anti-aging secret, ensures thick, healthy hair.
🌟 Astragalus: gives beautiful skin, strengthens the immune system.
🍒 Schisandra berry: for beautiful skin, bright eyes and to relax the liver. An aphrodisiac for women and men.
* Get Macao Woman at www.dancingshiva.at and save 10% with "RAWLOVE" when you order Macao Woman or any other products of their own brand.
The second key ingredient is…. Avocado! In Chinese medicine, it is considered cool and plays a special role in strengthening yin. It maintains your balance and physical well-being, supports the formation of a healthy cervical mucosa and ensures radiantly beautiful skin and strong hair.
Recipe: Rose Chocolate Mousse (raw vegan)
Ingredients for 1-2 servings:
1 ripe avocado
3 TBSP Macao Woman *
1-2 TBSP maple syrup or honey
1 TBSP coconut oil
1/2 tsp vanilla bean, seeds/vanilla extract
1 pinch of sea salt
Decoration:
chopped pistachios
rose petals
cacao powder
How to make this Rose Chocolate Mousse:
Mix all the ingredients in your blender or food processor until you get a creamy mousse.
Refrigerate until ready to serve, then decorate with chopped pistachios, rose petals, and cacao powder.
This is such an easy recipe. If you don't have a blender or food processor, you can also mash the avocado with a fork and stir in everything else, easy as that.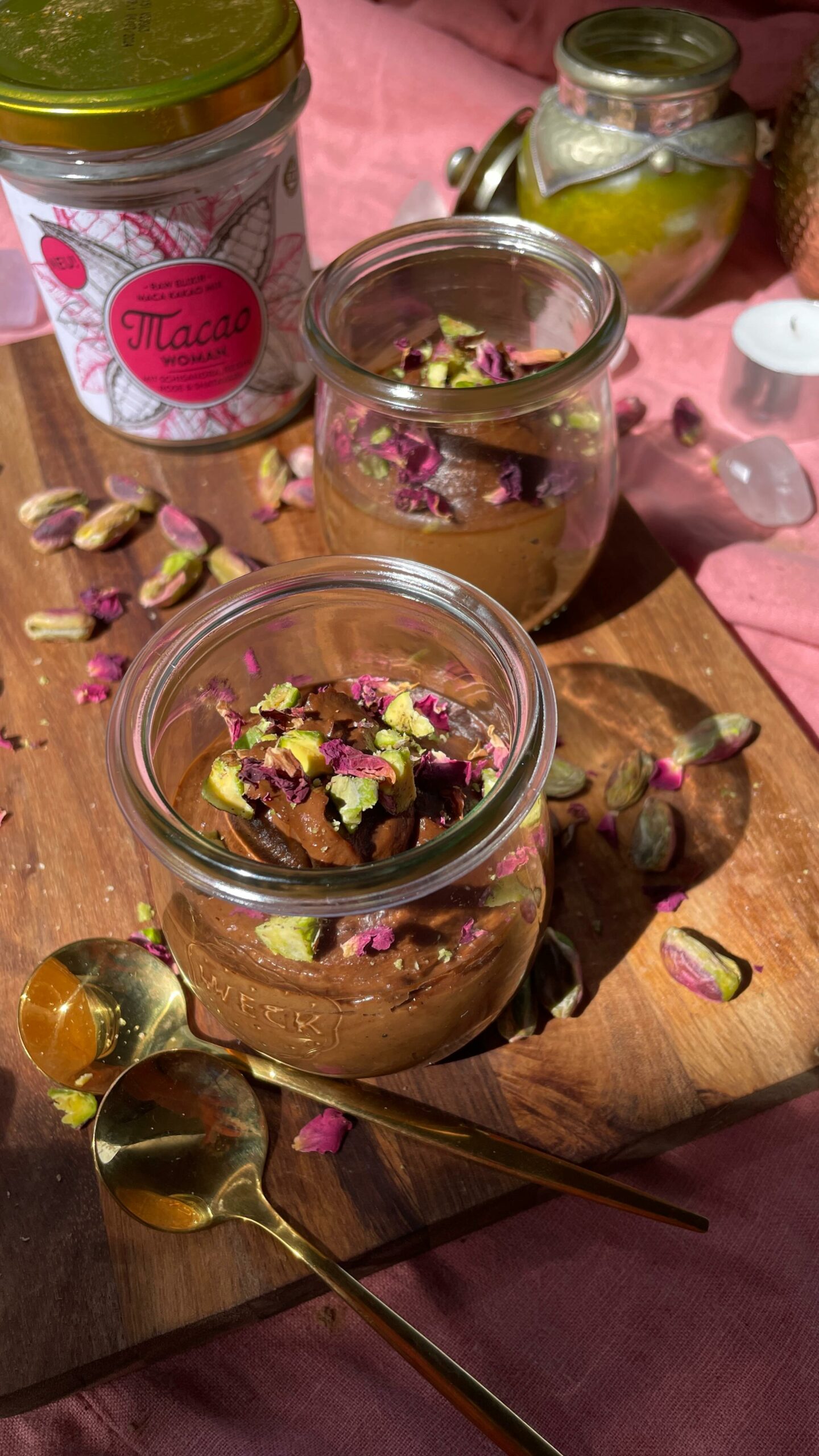 Notes:
C = cup, 240 ml
1/2 C = half a cup, 120 ml or / TBSP
1/4 C = quarter of a cup, 60 ml or 4 TBSP
TBSP = table spoon, 15 ml or 3 tsp
tsp = tea spoon, 5 ml
"soft dates" = medjool are usually best. If necessary, soak briefly and drain. The soaking water is super sweet by the way!