When I got invited to a potluck the other day, it was crystal clear what I would bring – Mango Cheesecake with chocolate marbling. It turned out beautifully, and the combination of fine, dark chocolate with sweet mango and tart cheesecake flavours is simply divine!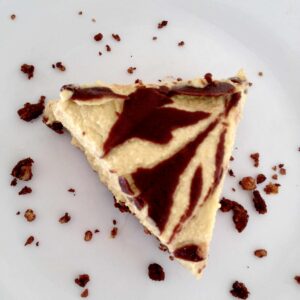 For the base:
1 cup Almonds, chopped
3/4 cup Dates, chopped
1 TBSP cacao
Sea salt
Preparation of the base:
Process all ingredients in a food processor or blender.
The dough should be sticking together, and still be crumbly for some crunch.
Add a few more dates if the dough is not sticky enough.
Cover a 7 inch (18 cm) cake pan with baking paper, and press dough into pan.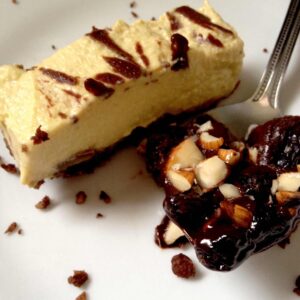 Filling:
1.5 cups cashews, soaked
1/2 cup almond milk
3/4 cup mango
3 limes, juiced (or 2 lemons)
Sweetener to taste (a combo of stevia and agave / coco syrup works great)
2 TBSP coconut oil
Vanilla
Preparation of the filling:
Blend all ingredients until creamy – this might take a while, and if your blender is not too strong, add the cashews bit by bit.
Take a sample, and add more lemon if you want it to be more zesty, or more sweetener for a milder, sweeter flavor.
Pour onto base and make the chocolate drizzle.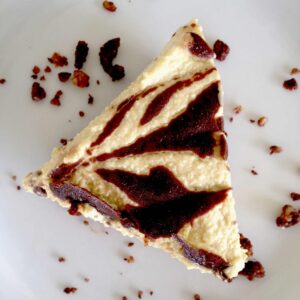 Chocolate drizzle:
1/2 cup coconut oil
1/4 cup sweetener (agave/coco)
3 TBSP cacao
Pinch of sea salt
Preparation of the chocolate drizzle:
Stir ingredients together with a fork.
Drizzle chocolate sauce over cake.
Use a fork to draw patterns.
Freeze for 3-4 hours, and let it thaw for a few minutes before serving.
Enjoy!
Optional:
Add some fresh mango slices, on top of the cake, or stir diced mango into the filling.
Have fun making this cake, and simply

message me

if you have any further questions!