Recipe for CBD Chocolate Brownies
Alright first things first, these CBD chocolate brownies will not make you high. They are also not baked (yep, lame stoner pun intended). They are however very likely to make you want to have a second one. And a third.
While they are like a 2.0 version of Space Cakes, they are also sophisticated enough to be served at a dinner party – rich, fudgy, chewy goodness with a thick chocolate layer on top, yet vegan, free from gluten and refined white sugar. It's also super rewarding to see people's faces when they first bite into the amazing texture of dense chocolate and soft brownie base, and even more when they discover how completely wholesome these CBD chocolate brownies are. Chances are, you will never even think of going back to conventional brownies, and why would you?
A note about the CBD oil I use, it is full spectrum which means it contains all non-psychoactive components which is what you want to look for (more on this below).
This recipe makes 9 brownies, however you could also roll them into around 20 bliss balls – decide first, how many portions you'd like, and then add 1 drop of CBD oil per portion. I used 5 % CBD for this CBD brownies recipe which is a very low amount, what's however right for you is absolutely individual. To give you an idea though, it is possible for some people to notice (non-psychoactive) effects after enjoying a few of these CBD brownies, most would need a much larger dose to feel anything other than sweet satisfaction.
Tips for making CBD Chocolate Brownies
The right equipment:
If possible, use a food processor with an S blade or a strong high speed blender. This allows you to combine all dry ingredients at once and then add the dates to the mix while blending everything together – simple and quick.
If you only have access to a weak blender, follow the recipe as below and you will be able to make CBD Chocolate Brownies just as beautifully as with any stronger appliance.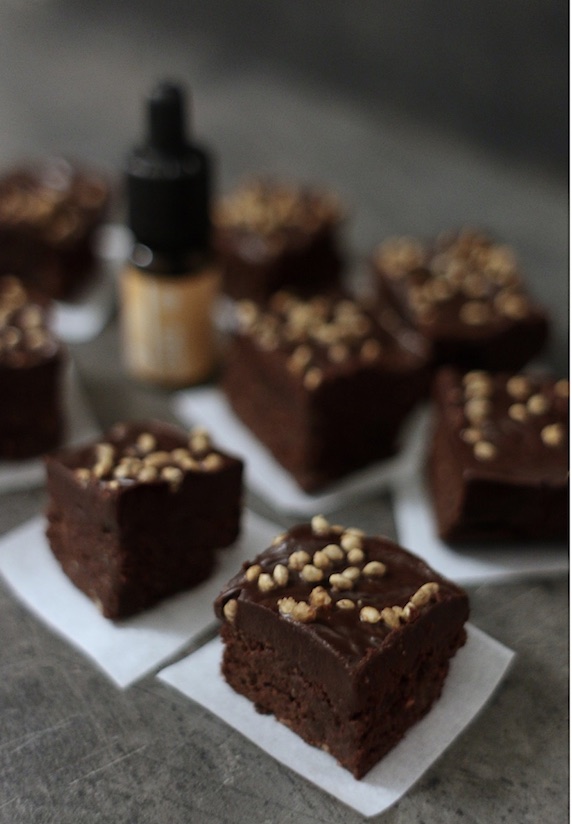 The right ingredients:
Make sure to use soft dates, medjool are best. If your dates are dry, soak them in warm water for 30 minutes, then squeeze out the excess water (enjoy it in a smoothie, it is delicious!) and add the dates to the recipe.
If the dough is too dry, add a few more dates – if it is too sticky, add a few more nuts. You want the texture to be slightly crumbly, yet sticking together when you pinch it in between your fingers.
The right CBD oil:
You want to use CBD oil that is
made from 100% cold pressed, high-quality hemp seed oil and extract
organic: cultivated in a controlled, pesticide-free environment
controlled regularly by independent laboratories
full spectrum, containing all the cannabinoids, terpenes, flavonoids and nutrients that hemp has to offer, thus resulting in the so-called "entourage effect". This means that a vegetable compound mixture has a higher biological activity than the isolated pure substance itself – therefore always choose full spectrum over isolates.
This is why I use Hempmate CBD oil. It covers all the above and is grown in Austria by a producer who can look back on more than 150 years of experience in horticulture. All flowers are organically cultivated and grown to the highest cultivation standards.
You can order it online here.
Ingredients for CBD Chocolate Brownies:
1 cup soft dates*, pitted (200g)
3/4 cup walnuts or pecans (or a mix, 100g)
1/2 cup raw cacao (60g)
1/2 vanilla bean, seeds or 1/2 tsp extract
1/4 tsp sea salt
8 drops of 5% CBD oil – this is the one I use: Full spectrum, organic, grown in Austria
optional: a dash of water, if the mix is too dry
________________________
CBD Chocolate Frosting:
3 TBSP coconut oil, melted
2 TBSP liquid sweetener of choice **
3 TBSP cacao
4 drops of 5% CBD oil
How to make CBD Chocolate Brownies:
Blend the nuts, cacao, vanilla and salt in a food processor or high speed blender.
Set aside in a bowl.
Blend the dates in a food processor or blender to a creamy paste; add a small dash of water if necessary.
Add date paste to the nut mix and stir together, add CBD oil and keep stirring until thoroughly combined.
Note – if you have a large enough food processor or strong blender, you can also add the dates and CBD to the nut mix and process until sticky.
Press dough into a square pan lined with parchment paper.
If the mix sticks to your hands, wet them.
Icing:
Whisk together the melted coconut oil, sweetener, cacao and CBD oil.
Spread on top of the dough.
Decorate with hemp seeds, pepitas, chopped nuts or dried fruit.
Chill for a few hours or overnight before cutting into pieces.
To cut, run hot water over a knife for a few seconds, then slowly slide the knife through the brownies.
Enjoy immediately or store refrigerated for up to 1 week.
To store longer, freeze in an airtight container for up to 6 weeks.
* Notes: *
C = cup, 240 ml
1/2 C = half a cup, 120 ml or / TBSP
1/4 C = quarter of a cup, 60 ml or 4 TBSP
TBSP = table spoon, 15 ml or 3 tsp
tsp = tea spoon, 5 ml
"soft dates" = medjool are usually best. If necessary, soak briefly and drain. The soaking water is super sweet by the way!
Liquid of choice = water, coconut water, plant milk
Sweetener of choice = dates or other dried fruit, rice syrup, xylitol, stevia, coconut nectar, maple syrup, agave nectar, honey (not vegan)