Do you love matcha like I do? I could drink a litre of matcha latte and eat matcha ice cream or matcha cheesecake basically every day. It was therefore only a matter of time before I would combine matcha with another favourite of mine: chia pudding.
This recipe is based on my cardamom vanilla chia pudding, is done in no time and above all: soooo delicious.
It is best to prepare the recipe the day before so you can enjoy it for breakfast the next day or take it to work with you.
You can use any plant-based milk for this recipe. Barista editions are great as they are extra creamy. You can also dilute coconut cream with a little water, which may be the cheapest option.
RECIPE FOR MATCHA CHIA PUDDING
Ingredients for 4 servings:
2 cups non-dairy milk (I used coconut milk)
2-3 tsp Matcha powder *
6 TBSP Chia seeds
1-2 TBSP liquid sweetener (maple syrup is great) *
1/2 vanilla bean, seeds / or 1 tsp extract
Coconut flakes for garnish
* Where to get:
Matcha Tea – www.dancingshiva.at
Preparation:
In a bowl, stir together the chia seeds and matcha powder.
Gradually add your non-dairy milk of choice and stir well to avoid lumps.
Add vanilla, season with sweetener.
Let the pudding sit for 5 minutes and stir again to evenly distribute the chia seeds.
Cover and place in the fridge in the same bowl or in portions for at least 4 hours or overnight to allow the chia seeds to swell.
Stir the pudding again before serving.
Garnish with desired toppings such as coconut flakes or fresh berries.
Enjoy!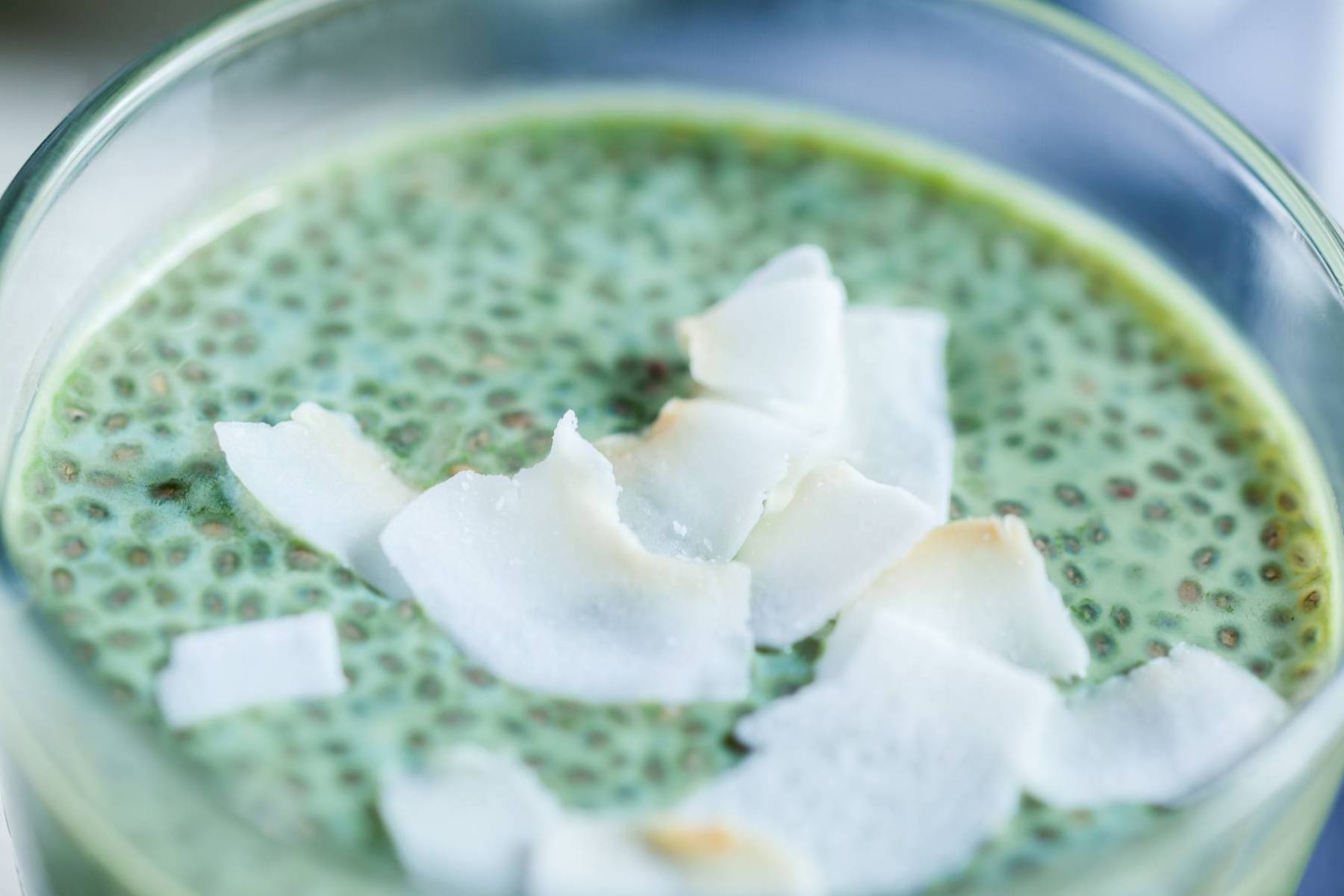 Try this easy and delicious recipe and share your creations with me! Feel free to use the hashtag #rohtopia on Instagram so I can see your Matcha Chia Pudding too. Bon appétit!
DID YOU MAKE THIS RECIPE?
Tag @rohtopia on Instagram and hashtag it #rohtopia
* Notes: *
C = cup, 240 ml
1/2 C = half a cup, 120 ml or / TBSP
1/4 C = quarter of a cup, 60 ml or 4 TBSP
TBSP = table spoon, 15 ml or 3 tsp
tsp = tea spoon, 5 ml
Liquid of choice = water, coconut water or plant based milk (check out my book "Milk. Vegan" with over 20 recipes!)
"Soft dates" = medjool are usually best. If necessary, soak briefly, then drain excess water. The soaking water is super sweet by the way!
Sweetener of choice = dates or other dried fruit, rice syrup, xylitol, stevia, coconut nectar, maple syrup, agave nectar, vegan honey