.. if you like Pina Coladas ..  🙂 this thick and creamy smoothie bowl is like a little tropical getaway 😍
Stock pineapples chopped and frozen for smoothies, and combine them with sweet, freshly sliced pineapples, coconut milk and bananas to leave you feeling energised and ready to conquer your day.
RECIPE FOR PINEAPPLE COCONUT SMOOTHIE BOWL
Ingredients for 1 smoothie bowl:
1/2 pineapple, peeled + chopped *
1/2 cup coconut flakes
1 banana, frozen
1 dash of water or plant milk
* around 2 cups, pineapple can be fresh or frozen
Toppings:
fresh cherries
chia seeds
granola
cacao nibs
shredded coconut
How to make this smoothie bowl:
Slice a pineapple lengthwise into two pieces. Cut approximately 1 cm around the inside of the skin to hollow it out.
Blend the pineapple meat with all other smoothie ingredients in your blender until creamy and smooth.
Pour into pineapple bowl.
Top with chia seeds, granola, coconut and cherries.
Enjoy immediately.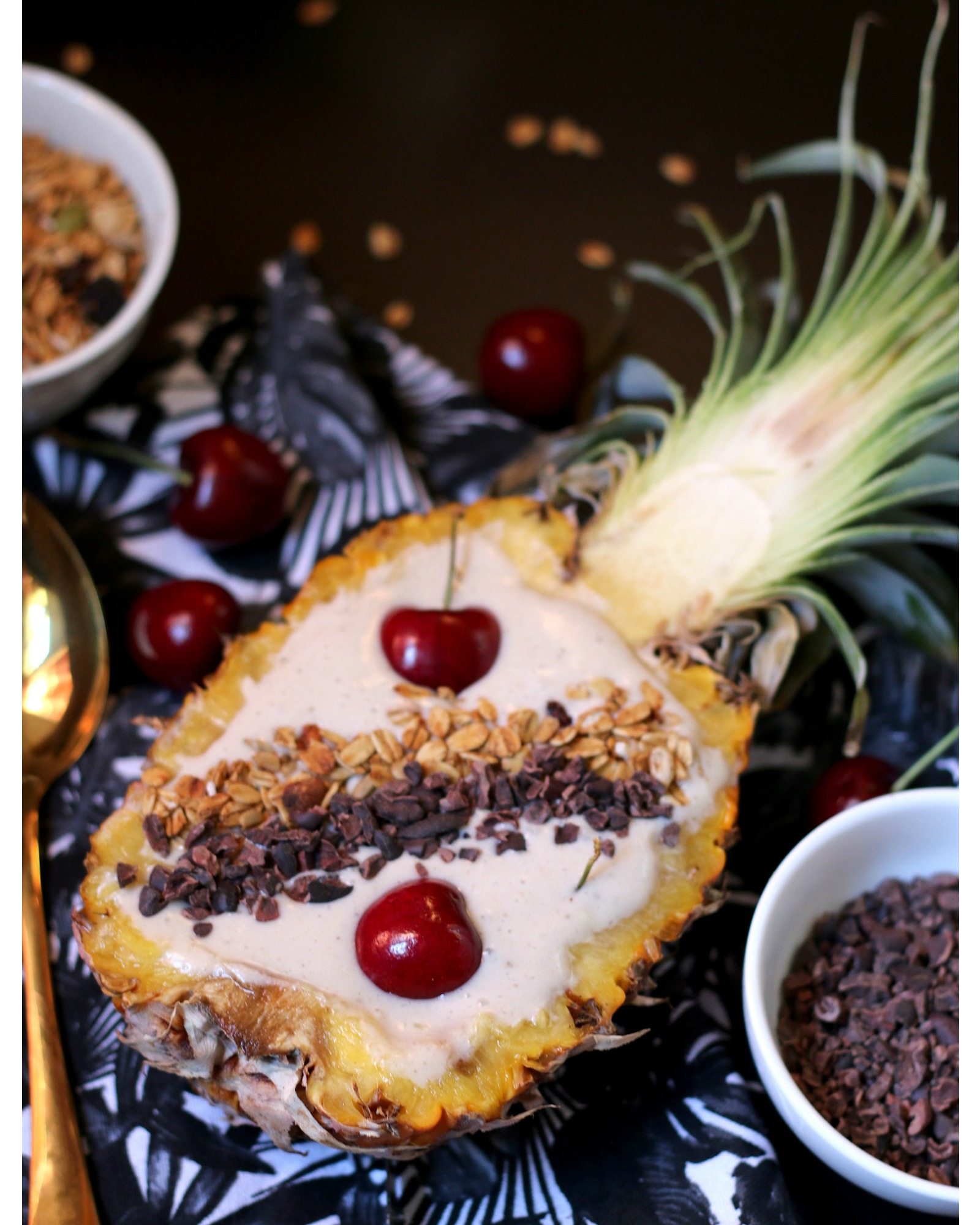 Notes:
C = cup, 240 ml
1/2 C = half a cup, 120 ml or / TBSP
1/4 C = quarter of a cup, 60 ml or 4 TBSP
TBSP = table spoon, 15 ml or 3 tsp
tsp = tea spoon, 5 ml
"soft dates" = medjool are usually best. If necessary, soak briefly and drain. The soaking water is super sweet by the way!