Recipe: Vegan Iced Coffee
Never, ever have I been a coffee drinker .. coffee chocolate, coffee cake, coffee ice cream absolutely yes please! but regular coffee? No thanks.
But then, I came across Iced Almond Mocha and totally fell in love. Keen to see what else is possible with Vegan Iced Coffee, I started mixing different plant mylks with coffee  and other ingredients.
Wait, does this mean, coffee is healthy?
So now that there is a coffee recipe on here, does this mean, coffee is healthy? Well … dosis sola facit venenum. Despite it containing antioxidants and other protective compounds, potentially reducing the risk of several diseases while boosting concentration and memory when enjoyed in small doses (50-300mg), coffee is still an addictive stimulant. Any proper (daily) coffee drinker who's ever quit cold turkey knows how hard that can be. So use it wisely, and rather have lemon water first thing in the morning to wake up your metabolism.
A few notes before we get started:
Coffee – Fairtrade cold brew coffee is best. It tastes smoother, is less acidic and you get good karma points for supporting farmers.
How to make cold brew coffee: Stir 3/4 cup coarsely ground coffee into 4 cups of filtered water. Let it steep in the fridge for 12-24 hours. Strain and store refrigerated in a sealed glass jar for up to 2 weeks.
Ice cubes – I like to fill ice cube trays with all kinds of liquids, for a less watery taste experience.
For the following recipes, frozen coffee and frozen plant mylk will work a treat to keep your Vegan Iced Coffee strong and flavoursome.
Mylk – Feel free to use any type, store bought or home made. Chances are your Vegan Iced Coffee will be just as delicious as which the ones used below. If you want to make your Vegan Iced Coffee extra awesome, froth it up – yes, even with cold milk: in a blender, with a hand-held frother, or with an electric frothing machine that has cold-frothing capabilities.
Sweetness – You may notice that I didn't add any kind of sugar or syrup. This is because I personally find plant mylk to be sweet enough.
If you however do want to sweeten up your Vegan Iced Coffee, go for xylitol because of it's bacteria fighting properties, rice syrup for zero fructose or ground Stevia for all natural no calorie sweetness.
Finally, without further ado, here are my favourite Vegan Iced Coffee recipes.
Each recipe serves one (in a generous mug)
Recipe: Vegan Iced Coconut Coffee
Ingredients:
1 shot espresso or 1/2 cup strong coffee
200 ml ice cold coconut mylk
1 pinch cinnamon
3 ice cubes (1/2 cup)
Recipe: Vegan Iced Oat Mocha
Ingredients:
1 shot espresso or 1/2 cup strong coffee
1/2 cup chilled oat mylk, as frothy as possible
1 TBSP raw cacao powder
3 ice cubes (1/2 cup)
Recipe: Vegan Iced Dirty Chai Latte
Ingredients:
1 shot espresso or 1/2 cup strong coffee
200 ml almond mylk
1 tsp chai spices
1 tsp coconut oil
1/2 tsp vanilla extract / seeds of 1/2 vanilla bean
3 ice cubes (1/2 cup)
How to make Vegan Iced Coffee:
You've got several options:
Stir together coffee and spices or coconut oil if using any.
Place ice cubes in your cup first, pour mylk over the ice then follow up with the coffee blend. Dust with extra cacao or cinnamon, enjoy!
Blend all on high speed until smooth.
Pour into a tall glass, serve and enjoy.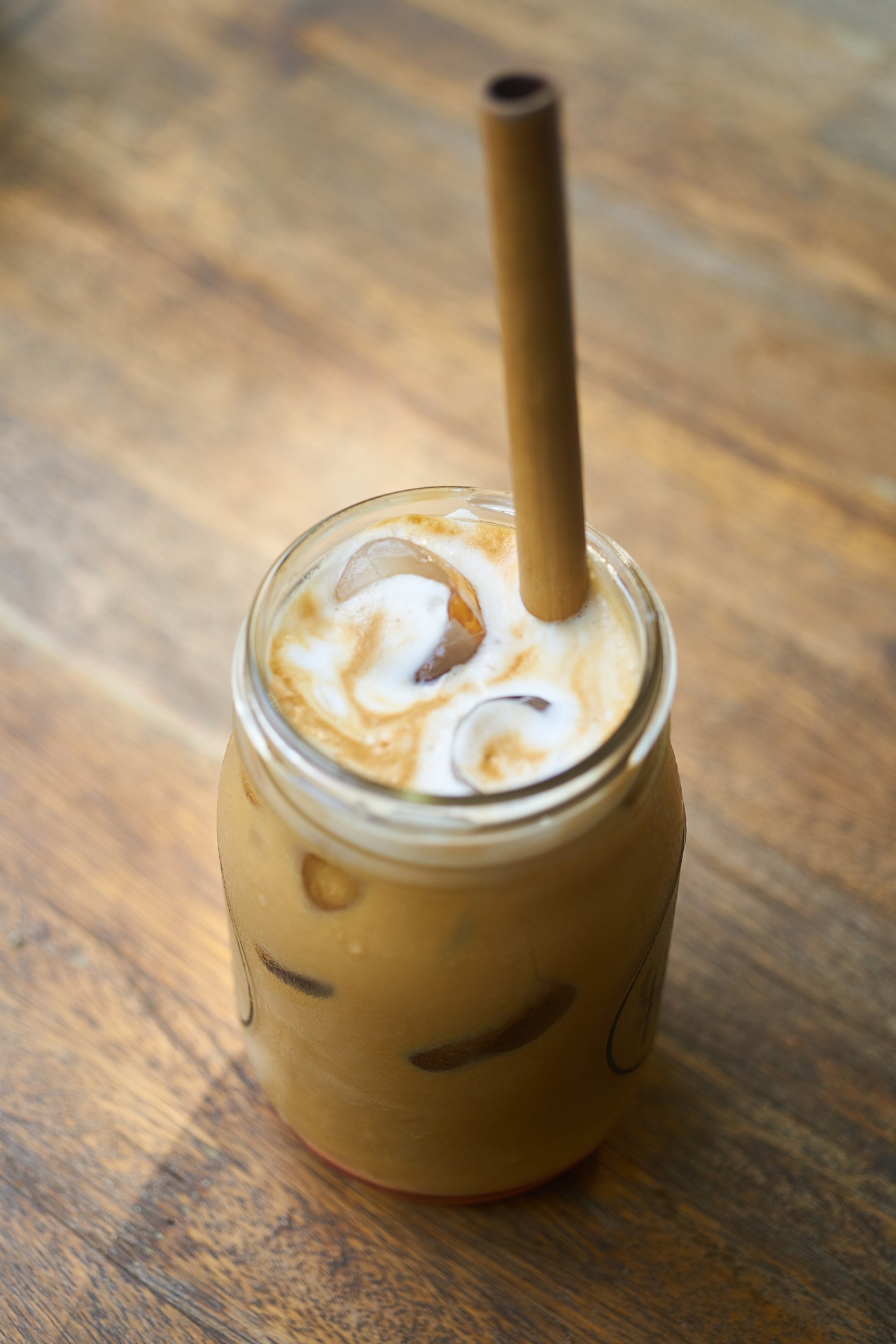 * Notes: *
C = cup, 240 ml
1/2 C = half a cup, 120 ml or / TBSP
1/4 C = quarter of a cup, 60 ml or 4 TBSP
TBSP = table spoon, 15 ml or 3 tsp
tsp = tea spoon, 5 ml
"soft dates" = medjool are usually best. If necessary, soak briefly and drain. The soaking water is super sweet by the way!
Liquid of choice = water, coconut water, plant milk
Sweetener of choice = dates or other dried fruit, rice syrup, xylitol, stevia, coconut nectar, maple syrup, agave nectar, honey (not vegan)